More exam grades changed after challenges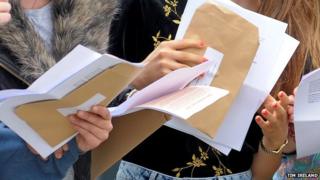 There has been a steep rise in the number of GCSE and A-level grades changed after schools challenged the results, according to official data.
A total of 77,400 grades were changed for the summer 2014 exam series across England, Wales and Northern Ireland - up from 54,400 in 2013.
This is a 42% rise, says the data from exams regulator Ofqual.
However, the body warns that changes to the exam system mean direct year-on-year comparison is difficult.
In particular, changes to the rules on early entries and resits resulted in a large rise in the number of entries for summer exams this year.
'Problems rare'
So the rise in grade changes after appeals represents fewer than 1% of all grades issued, says Ofqual.
In all, there were 451,000 individual inquiries about results, up from 304,400 in 2013, a rise of 48%.
But Ofqual says part of this can be explained by the overall increase in the total number of entries for the summer exams.
There were more than 22 million entries in summer 2014, it says, compared with just under 20 million the year before, a rise of 11%.
For GCSE, 292,350 qualification results were challenged. Of those that were changed, 53,850 went up and 400 went down.
At A-level, 122,500 results were challenged, with 22,550 going up after a re-mark and 600 down.
The Association of School and College Leaders describes these as "staggering figures".
General secretary Brian Lightman said the data backed up ASCL's own survey of schools earlier this year when 95% said they had submitted appeals and 25% had seen changes to marks.
"Schools need to be able to trust the marks given to students.
"They need to know that examinations will be marked accurately, fairly and in a timely manner.
"Unfortunately it is too late for those students who were relying on those grades for university or college placements or other career paths."
In its review of the summer 2014 exam series, Ofqual concludes that "despite the scale of the system, problems are relatively rare".
However, the regulator says it is concerned about the rising number of challenges to results.
It says the data suggests serious errors "are relatively rare" but admits the rising number of inquiries from schools and colleges shows they have significant concerns.
"Marking quality is generally good but it is not yet good enough," says Ofqual.
It says it will "continue to require exam boards to improve their training and monitoring of examiners".
'System overhaul'
The regulator also says it plans to overhaul the results inquiries system to "better distinguish between marking errors and differences of opinion between equally skilled professionals, particularly in those subjects where more subjective judgements of the quality of student work are necessary".
The Department for Education said it was working closely with Ofqual and the exam boards to ensure they were taking the necessary steps to improve marking quality.
"It is essential that students can be confident that their hard work will be accurately assessed and the exams they sit properly marked," said a spokesman.
The statement added that while the proportion of grades changed "remains relatively low, every such change has a big impact on the individuals affected".