'Few parents check league tables when choosing schools'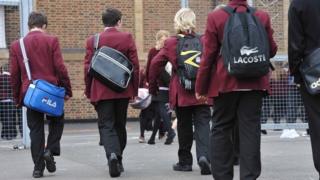 Fewer than a third of parents check league tables when choosing schools for their children, suggests a UK-wide survey for a teaching union.
Instead, more than half (54%) look online for general information, 49% read the latest inspection report and 53% speak to parents of current pupils.
Some 87% of 1,019 parents polled by ComRes for the NASUWT were satisfied with their children's teachers.
NASUWT general secretary Chris Keates urged ministers to take note.
The findings come ahead of publication of the annual secondary school league tables in England later this month.
'Negative ritual'
Ms Keates said the survey results showed the majority of parents did not share ministers' views on "many of the key education policy issues".
"It is clear that punitive ranking of schools in performance league tables is not something on which the majority of parents rely, and therefore schools, parents and children are subjected to this negative annual ritual unnecessarily."
More than two-thirds of parents (67%) said a school's location, easily accessible from home or work, was a crucial factor.
Asked to name the five most important qualities they wanted in a school:
54% listed supportive staff
39% a good inspection report
38% a track record on dealing with bad behaviour and bullying
36% good buildings and facilities
21% good league table position
James Kempton, associate director for education and social policy at the centre-right think tank CentreForum welcomed the fact parents accessed information on school performance from a variety of sources,
"This is a good thing because no single method of assessing how well a school is performing can possibly capture every facet of what that school does," he said.
CentreForum has argued secondary schools should be judged according to the progress they enable pupils to make.
From 2016, government reforms to league tables in England will encourage secondary schools to focus on pupil progress.
"Knowing that schools will be rewarded for focusing on every child's education is something that parents of prospective pupils will want to hear.
"It will hopefully create greater confidence in league tables and make them more useful to parents," said Mr Kempton.
The government said the tables were "an essential way of holding schools to account" and allowing parents to compare schools locally and nationally.
A Department for Education spokeswoman said Bristol University research has linked the abolition of performance tables in Wales in 2001 with "pupils there falling behind children in England".
Other issues
Ms Keates said league tables were just one of a number of educational issues in which parental opinion differed from government policy.
Some 95% of the parents interviewed felt it was important or very important their children were taught by professionally qualified teachers.
Ms Keates called this "a damning indictment of the coalition's decision to remove the requirement for all schools to employ qualified teachers".
She said: "The very high level of satisfaction that parents indicate with the quality of their child's teachers makes all the more outrageous the constant denigration the profession has suffered at the hands of this government, denigration which only ceased when the general election came into view."
Shadow education secretary Tristram Hunt said the government's policy of allowing unqualified teachers into the classroom on a permanent basis was damaging school standards.
"A world class teacher in every classroom - that is my ambition. Our children deserve nothing less. That begins with all teachers being qualified and then continuing to improve throughout their careers, as a condition of remaining in the classroom," said Mr Hunt.