'Almost a quarter of girls in care become teen mothers'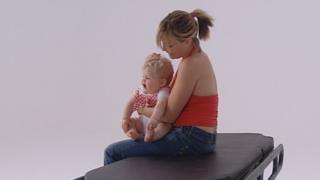 Almost a quarter of girls (22%) in care in England become teenage mothers, according to figures obtained by a think tank.
This is about three times the average for teenage parenthood, says the Centre for Social Justice.
The figures also suggest at least one in 10 care-leavers who become parents have their children taken into care.
The authors urge more support for teenage parents to break the "inter-generational cycle of disadvantage".
Researchers sent Freedom of Information requests to all England's 150 local authorities.
'Cycle of disadvantage'
The councils were asked to provide figures for the year ending March 2014 on the number of 19-year-old girls who had been in care when they were 16, and what proportion had ever given birth.
They were also asked for the number of care-leavers' children they had taken into care.
About two-thirds of local authorities provided data.
The report urges councils to do more to help care-leavers "be the good parents they aspire to be" but says only a fifth of local authorities have policies on providing such support.
"When you take children into care you have a unique opportunity to break the cycle of disadvantage - too often this isn't happening," said CSJ policy director Alex Burghart.
The report says the reasons for the high rate of teenage pregnancy among care-leavers are complex.
"Risk factors include high levels of family disruption, low parental supervision, poor school attendance and an associated lack of aspiration."
The authors say some care-leavers can find it hard to distinguish between a loving relationship and a sexual relationship.
The report highlights the case of one teenager, "Jennie", who moved in with a friend's family after leaving care aged 15.
This family itself had "complex needs", including a history of abuse and domestic violence.
"Jennie" began a relationship with her friend's 46-year-old step-father.
She had two children with him, but the relationship broke down and she moved out and had a third child with another man.
The first two children now live with their father, the third has been taken into care, while "Jennie" is pregnant again, says the report.
'A priority'
With the cost of keeping a child in care estimated at over £36,000 a year, the authors say local authorities should see improving services to care-leavers as a priority.
They advocate "personal advisers" to provide care-leavers with the sort of support teenagers might usually expect from parents or grandparents.
Care-leavers who become parents could be offered 24-hour residential care, perhaps from an experienced foster parent, who could give support and impart parenting skills, they add.
In response, the Local Government Association said councils were doing all they could to ensure children in care had the same life chances as their peers.
"As champions for local children, councils will continue to work hard with schools, teachers and care professionals to ensure we are doing everything possible to narrow the gap between the achievements of children in care and their peers and ensure they can reach their true potential as adults," said a spokesman.