Schools asked to test-run new maths GCSEs by Ofqual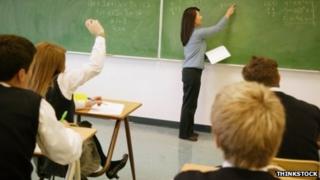 Schools in England are being asked to put pupils through extra mock maths exams after concerns were raised over the new maths GCSE.
In December, two examination boards accused a rival of offering sample maths papers that are too easy.
Schools are due to start teaching the reformed maths GCSE from September, with the first exams to be sat in 2017.
England's exams watchdog, Ofqual, said large-scale testing was part of a research programme into the new GCSEs.
The issue centres around sample papers produced by the AQA exam board, and accredited by Ofqual, which rival boards Edexcel and OCR say were not challenging enough.
AQA has insisted its qualification is rigorous, provides a high value assessment and promotes good teaching and learning.
'Mock exams'
In response, Ofqual has written to all schools asking if they would be prepared to take part in research looking at the difficulty and demand of the new maths GCSEs.
In a paper on the plan, Ofqual said: "To evaluate the actual difficulty of questions, current Year 11 students will be asked to sit one of the question papers from the sample assessment materials as a mock exam.
"As an incentive to participate, the scripts will be marked and teachers provided with student and item level analyses following the study."
However, the watchdog acknowledged that there would be "some content that pupils are not likely to be fully prepared for" as the exam is based on the forthcoming maths syllabus.
Ofqual said the papers would be sat under exam conditions with a minimum of 500 students per exam paper at each tier of the exam (foundation and higher).
'Shocking'
A spokesman for AQA said: "Our Maths GCSE was developed by our own assessment experts, leading academics and teachers and tested by our research centre with real GCSE students to ensure that it is sufficiently demanding.
"We will of course be interested to see the findings of Ofqual's research, which we expect to be similar to our own.
"In the meantime, we know teachers are getting ready now for the first teaching in September and look forward to seeing them at our country-wide 'Preparing to teach' events."
Sue Pope, chairwoman of the Association of Teachers of Mathematics, has told the Times Educational Supplement that Ofqual handled the accreditation of the new maths GCSE in a "shocking" way.
She suggested that the accreditation or approval of the examination had happened too fast.
'Robust research'
An Ofqual spokeswoman added it had been working with exam boards over the past 18 months to deliver the government's policy aims for the revised GCSE maths qualifications.
"This means ensuring all students are more confident and competent in basic maths and more able students are properly stretched.
"The level of demand placed on students is therefore being rigorously evaluated by Ofqual through an extensive and robust research programme.
" An essential component of our work is the large-scale testing of new papers on 4,000 students. We have had significant interest from schools wanting to take part, and achieved our planned recruitment in a matter of days."