Mandarin contestants invoke spaceships and evil spirits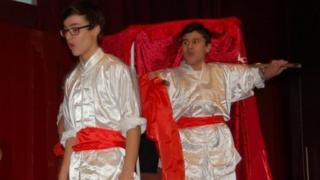 Secondary school students have been testing their language skills in the final of the British Council's Mandarin Speaking Competition.
One school delighted judges with a comic play about what can go wrong if you turn up at a Chinese restaurant without your purse.
Another embarked on their own version of the tale of Mulan.
Just over 3,000 students take Mandarin at GCSE and the competition's aim is to boost uptake in schools.
The numbers compare unfavourably with the 168,402 students taking French and the 93,028 taking Spanish GCSEs last year.
Global language
The British Council says more students need to learn Mandarin which is spoken by more than one billion people worldwide and is increasingly important to the global economy.
"Chinese is obviously up and coming and it is good to know you can speak it," said Fyza, 18, from St Helen's School in Northwood near London, who hopes to study international business at university.
"Perfecting the tones is quite difficult though.
"There are four tones and you can say the same thing in a different tone and it totally changes the meaning of it.
"At first I was scared to speak because I wasn't sure what I was saying - but then I decided to have a go anyway."
"Mum and horse are the same word but have different tones," explained Emily, 15, also from St Helen's "so you could get into quite a bit of trouble with that."
'Logical'
The group from Our Lady's Convent High School in Hackney, east London, were runners up in the group category with their own "modern fairy tale" involving an evil spirit splitting apart a pair of lovers who are later saved by a businessman with a spaceship.
"It's a very difficult language compared with English - but I like the challenge of it," said Lourdes, 14.
"The grammar is really simple, the tones are what make it difficult - but it's more logical than French."
William, aged 14, and Oliver, 15, from King Edward VI Grammar School in Chelmsford had entered the individual presentation section of the competition. This is more like a traditional oral exam, with a presentation and questions from the judges.
William said he felt better prepared for the GCSE with this under his belt.
"I was very nervous. I was shaking when I went on."
Both boys are also learning German and hope their wide base of language skills will allow them to work overseas as adults.
"I think it's very important to be able to communicate," said Oliver.
"I think learning the characters is one of the most difficult things. There's a separate character for every word."
The 10 top performing Mandarin speakers will win a trip to China to visit the Great Wall and the Forbidden City as well as taking part in exchange events with Chinese schools.
Vicky Gough of the British Council said the UK needed more young people to develop their language skills "to work confidently around the world and in multinational organisations here in the UK".
Ms Gough said she hoped a good understanding of Chinese language and culture would "give young people the advantage they need to live in a global society and compete in a global economy".
The competition has been sponsored by the HSBC Global Education Programme since 2003.