Exam paper 'errors' leave students fuming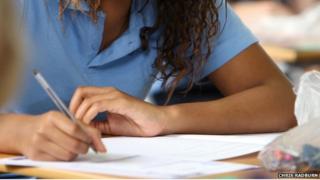 Economics students at Exeter University have filed formal complaints after an end of course exam contained "errors" including spelling mistakes, they say.
Students say teaching failed to prepare them for a paper which was "unreflective of course content".
Some 220 students, two-thirds of those who took the exam, have signed an online petition demanding the university investigate.
The university said it had robust procedures for approving exam papers.
High achievers
Students at the university's business school say they were so poorly prepared for the exam that high achievers who normally average scores of over 80% got only 40% - while others scored as low as 10%.
The average grade from the January exam on economic principles and policy, was just 53%.
They say a similar issue with the same module in 2012 resulted in marks being adjusted.
The students who are in their second and third years have sent their petition to Exeter's vice-chancellor and are hoping to meet senior managers from the university and the business school within the next few days.
They say that so far they have been told to submit formal complaints as individuals but would prefer to be able to appeal collectively.
With fees now £9,000 a year students say "it is unacceptable that the university should be making such mistakes".
Correct procedure
An Exeter University spokesman said each exam paper was checked "internally and by an external examiner" to confirm the questions were appropriate for the module content and level of study.
"This procedure was correctly followed for this exam paper.
"The business school treats all complaints seriously, and we are now working with students and staff regarding this issue.
"Our procedures are being accelerated in this instance to address the concerns raised by our students."
This is the second row over university economics exams this year.
Last month third year students at Sheffield University complained that a recent exam on the economics of cities was "impossible".