School place cash details announced by ministers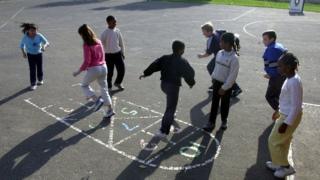 Ministers have announced how money allocated for new school places will be spent, with Manchester and London deemed in most need of extra funding.
The £1.3bn will be paid to English councils in 2017-18 to ensure they have enough school places in September 2018.
The allocation is based on information provided by councils on the number of extra places they will need.
Local councils said they needed powers to open new schools to avoid a pupil places crisis.
The funding is part of £7bn announced by the government in 2013 to provide enough places from 2015 to 2021.
Of this some £2.05bn has already been allocated for 2015-17.
This will be topped up by an extra £300m to help provide school places in areas experiencing significant increases in pupil numbers, say ministers.
The government says that since 2010 it has so far spent more than £5bn to create more than 445,000 school places.
'Planning ahead'
The latest funding allocation announcement will mean councils can plan ahead, according to Education Secretary Nicky Morgan and Schools Minister David Laws .
"Since 2010 we have more than doubled the funding for new school places to £5bn, helping to create almost half a million places," said Mrs Morgan,
"Thanks to the free school programme we are providing additional schools, the majority of which are in areas of need, and giving thousands more parents the choice of a high-quality local school."
According to official figures, the birth rate is rising faster than at any time since the 1950s with the squeeze on school places most acute in major cities.
Some suburban areas have seen a rise in the number of families with school-age children, due to changes in work patterns, while the school population has fallen in some rural areas.
Overall London was deemed in need of a £350m share of the funding and Manchester some £80m.
Essex gets £41m, Kent £38m and Hampshire £33m.
A Department for Education spokeswoman explained the allocations were based on councils' predictions of the number of extra places they will need and details of any shortfall in funds to provide them.
'Tipping point'
The Local Government Association said the money would provide some certainty on school places but warned councils needed powers to open new schools.
"We fear a tipping point could soon emerge when councils and schools can no longer afford the massive costs for the creation of places, nor find the space necessary for new classes, if this school places crisis is not properly dealt with.
"We do not want any child to be without a place. That is why, at a time when parents are making big decisions about their child's future, we are calling on the government to commit to funding the creation of school places and hand councils the powers to open new schools, for both primary- and secondary-age pupils, before time runs out."
On top of struggling to meet the demand for places, the spokesman also warned councils were short of money for school repairs.