Invest in children's first 1,001 days, say experts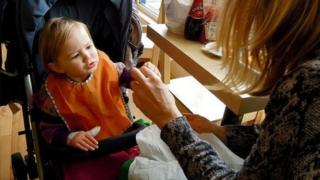 More needs to be done to tackle problems arising in the crucial 1,001 days between conception and the age of two, a parliamentary group says.
The cross-party group wants more emphasis on mental and emotional wellbeing, secure parental attachment and preventing child maltreatment.
Without intervention, it warns of "another generation of disadvantage, inequality, and dysfunction".
The group estimates the cost of not dealing with the issues to be £23bn.
The All Party Parliamentary Group for Conception to Age Two says this figure - equivalent to more than two-thirds of the annual defence budget - is spent on a problem that is "widespread and when unchecked passes from one poorly parented generation to the next".
As a result, a report from the group says tackling problems associated with early life should be no less a priority for politicians and health and social care professionals than national defence.
The committee behind the report is made up of MPs and members of the House of Lords, and academics and child welfare specialists.
It is chaired by Tim Loughton - a former children's minister - and includes Susan Ayers, professor of Maternal and Child Health at City University, London.
The report aims to provide support to enable parents to raise children who, at the end of their first 1,001 days, have the social and emotional resources that form a strong foundation for good citizenship.
'Best start'
Prof Ayers says the report is long overdue.
"The evidence that pregnancy and the first two years of life are critical in a child's development and long-term health is substantial," she says.
"To ensure the best start in life and good physical and mental health of future generations we need to support women during pregnancy and birth, and support families during the first two years of a child's life.
"The report shows that women's mental health is central to children's health and puts forward a number of recommendations that, if implemented, will reduce perinatal mental health problems and the transmission of vulnerability from one generation to the next."
The report also recommends that local authorities and health professionals prioritise the development of socially and emotionally capable children, by adopting and implementing a "1,001-days strategy".
Kate Mulley, director of policy and campaigns, at charity Action for Children, said: "Equipping and supporting parents to provide a safe and nurturing upbringing for their child in the crucial early years can make a difference that lasts a lifetime.
"Getting all local services to work together to help families with problems early rather than once they become crises is the right approach to effectively tackling child maltreatment.
"We know from our work on neglect that early help services can play a crucial role in prevention and that children's centres are ideally placed in communities to offer parents access to a wide range of support from conception onwards."