Exam row university broke complaint rules, say students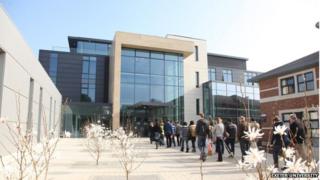 Angry students say their university has broken its own complaints handling rules in its response to a row over an "unfair" economics exam.
Economics undergraduates at Exeter University have complained about poor teaching that they say left them unprepared for an exam in January.
They also said the exam paper contained errors, including spelling mistakes.
However, an investigation by the university's business school has rejected these concerns.
Up to 240 students signed an online petition after the exam, with 70 submitting formal complaints.
'Typographical errors'
But the university says it "has no case to answer in relation to the issues concerned".
A review by an external examiner found typographical errors but no significant problems, calling it "a good-quality exam paper" and the marking "very consistent".
An email from the business school told students it would "not therefore be making any adjustments to the marking of the exam at this time", but would review the module again in June, along with marks from summer exams.
The full report was emailed to students this week.
The students are not satisfied, saying their complaints have been met by delays and poor handling.
"It's as if they think we have made this whole thing up!" said one.
"If 240 students isn't evidence I don't know what is."
'No action'
Individual students first complained informally about poor teaching on the module in November by speaking to the university's staff-student liaison committee.
The university's guidelines indicate informal complaints should be resolved "as quickly as possible", with decisions given within two weeks.
However, the students say their concerns were not dealt with at the time and no action was taken.
The January petition was forwarded to the associate dean of the business school.
The students say this was likewise not registered as an informal complaint as it should have been in accordance with university policy.
They say the guidelines indicate that if group approaches fail to resolve a problem, individuals "may raise the matter formally under this procedure and move immediately to the formal process".
Instead, the business school responded by sending an email to students last month, urging them to resolve the matter "informally".
The email also failed to inform students how to register a formal complaint - which, they say, also breached the guidelines.
About 70 students eventually submitted formal complaints via an official form. They say university policy indicates the issue should then have been discussed at a meeting with senior business school staff.
Full hearing
They are angry that their complaints have been dismissed without this happening and now want a full hearing through the university's central complaints office.
A university spokeswoman said: "We have now concluded the first formal stage of our investigation into student complaints regarding the module and have circulated the conclusions to all the students.
"Separately, the examination has been reviewed thoroughly by the external examiner. Both the external examiner and the comprehensive formal investigation found that the university has no case to answer in relation to the issues raised.
"The business school does not accept that it breached any current guidelines in terms of its handling of this complaint. It does recognise, however, that the existing guidance about the process regarding progression between different stages (informal to formal) of complaints may need further clarification.
Extra marks
"We are actively looking at how we can do this."
In 2012, a similar row at Exeter was resolved when students were awarded extra marks.
Recent reports by consumer body Which? urged tougher regulation on universities to improve complaint handling.
Reforms to the university sector have left its regulatory system struggling to keep pace, Which? said.