Housing costs blamed for unhappy relationships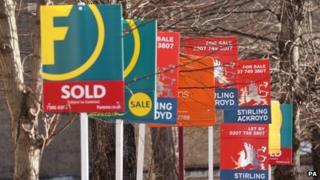 One in 10 UK adults feels unable to end an unhappy relationship because they cannot afford to rent or buy a place of their own, a charity's survey suggests.
Shelter's poll of 4,490 adults also found 16% knew someone who had moved in with a new partner too soon after being unable to find their own accommodation.
In addition, 57% of the 672 childless respondents had delayed starting a family, for up to five years, because of the high cost of housing.
Shelter wants more affordable housing.
Chief executive Campbell Robb said: "It's heart-breaking that so many couples are being forced to put their lives on hold because of the crippling cost of housing.
"More and more young people are finding themselves working hard and saving what they can but still unable to afford a stable home to raise a family.
"Instead they face a lifetime of expensive renting and insecurity, unable to put down roots.
"The only way to give back hope to the priced out generation is for politicians to make a real and lasting commitment to building the affordable homes we desperately need."
First-time buyers
In 2003-04, 59% of households made up of 25 to 34-year-olds were owner occupied compared with 36% a decade later, according to Shelter.
Prime Minister David Cameron has set out plans to make 200,000 homes available to first-time buyers in England by 2020, if the Conservatives win the general election in May.
Housing Minister Brandon Lewis said: "We're determined that anyone who works hard and wants to get on the property ladder has the help they need to do so.
"Since 2010 204,000 hard-working households have been able to buy or reserve their own home through Government-backed schemes.
"That includes the Help to Buy, which enables people to buy with a fraction of the deposit they would normally require and has also boosted house building in response to increased demand.
"And we're now working with house builders to deliver new Starter Homes, which will be available to young first-time buyers at a 20% discount."
The coalition government has already announced plans for 100,000 cut-price homes for people aged under 40.
Labour has pledged to build 200,000 new homes a year by 2020. The Lib Dems have set out plans to build 300,000.
The Liberal Democrats are promising 190,000 affordable homes and wants to bring 70,000 empty homes back into use.