Tony Blair seeks 'open mind' lessons to tackle extremism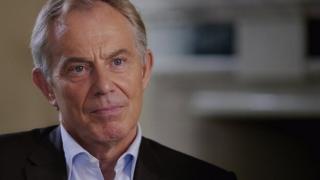 Tony Blair has called for an "education for open minds" in tackling radicalisation among young people.
The former UK prime minister said faith schools of all kinds needed to make sure pupils understood the beliefs of other religions.
He warned that the London schoolgirls who travelled to Syria also showed the impact of what young people learned from information online.
Mr Blair said there was a need to "root out" intolerance.
Speaking at the Global Education and Skills Forum in Dubai, Mr Blair said that faith schools, including informal places of education, needed to ensure young people could learn about beliefs other than their own.
'Confront intolerance'
"Faith schools are a big part of the UK system, and a lot of people like to educate their children in those schools because sometimes they have a stronger ethos and grounding in values.
"But they only work if they're integrated into the system and it's very important that young people are taught about other faiths in a constructive way.
"This education for an open mind is very important now."
But the east London schoolgirls who had gone to Syria showed that young people's education was also shaped outside school, he said.
"People don't just get taught in the classroom, they're taking influences from all different quarters, from the internet, from informal education systems.
"Wherever there is intolerance, we have to confront it," he said.
Mr Blair said this was even more important in a globalised world. When he was growing up, he said he was 12 before he had met anyone from Africa.
The former prime minister also talked about how hard it was for governments to make substantial reforms in areas such as education.
He described the Whitehall system as "monolithic" and "bureaucratic".
When he was first elected as prime minister, he said "you get the idea that you're an important guy" - not least, he said, because around the cabinet table, the prime minister's chair is the only one with arms.
"I had this naive view that if I sat there and said that something should happen, that something would actually happen.
"After a time I realise that this isn't how it works at all. The system and government is brilliant at managing the status quo. Where government is weak is in changing the status quo."
He said the way that he tried improve schools was to say to ministers: "Let's forget we're the government, let's just think as parents. What do we as parents want for our children? And you're likely to get better answers than as politicians trying to analyse a system."
The international education conference also debated about how to protect schools from extremist attacks, in the wake of the massacre of students in Peshawar and the abductions of schoolgirls in Nigeria.
Tackling poverty and illiteracy will be the most effective means to stop Boko Haram's attacks on education, said Nigeria's former president, Olusegun Obasanjo,
He said Nigeria's government had been too slow to understand their threat and it meant there had been a lack of urgency in reacting to the abduction of schoolgirls in Chibok.
The government's response had been "lukewarm at best," he said.
Mr Obasanjo said the roots of the problem lay in deep regional and economic divisions within Nigeria.
'Carrot and stick'
There were much higher levels of illiteracy and poverty in parts of northern Nigeria, which had seen attacks by Boko Haram.
"These gaps do not make for unity, peace and security," he told the conference.
When the schoolgirls were abducted last year, he said the government was still unable to grasp the significance of a movement, which was now spreading to become a regional security threat.
"The government didn't even believe the girls had been abducted for some time," he claimed.
This meant a delay in trying to rescue them or to engage with local leaders, said Mr Obasanjo.
He called for a "carrot and stick" response to Boko Haram, with a military intervention being accompanied by long-term improvements in education and job opportunities.
The origins of Boko Haram had been misunderstood, he argued. It was not initially opposed to western education, but had grown from disillusioned youngsters who had not found good jobs despite their qualifications.
"We have to deal with the causes of terrorism, real or perceived," said Mr Obasanjo.
The debate also heard from other parts of the world affected by threats of violence against education.
Anusheh Bakht, an 18-year-old schoolgirl in Lahore, Pakistan, said that the result of the terror attack on a school in Peshawar had been to make young people even more determined to get an education.
"The reaction of young people was completely opposite to what was expected by the terrorists.
"Students wanted to drive terrorism out with the power of education," she said.