Claims head 'phoned God' to punish pupils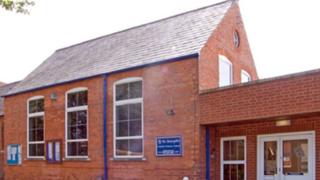 Claims that a primary school head made pupils lie on the floor while she "phoned God" are being investigated by Wiltshire Council.
Sheila Jones, head of St Joseph's Roman Catholic Primary, Devizes, is said to have pretended to tell God the children had been naughty.
The investigation follows complaints from parents to Ofsted and to governors at the academy school.
Wiltshire Council said it was "looking at the concerns raised".
Distressed
It has confirmed that its safeguarding team is investigating a number of complaints raised by parents.
The parents had claimed their children were quiet and distressed after the punishment in the school's prayer room which is said to have involved pupils being forced to lie face down on the floor while the head told them she was going to phone God on her mobile phone to say they had been naughty.
"The information provided raised concerns about the safety of the children," said Ofsted in a letter responding to parents.
"Ofsted has shared your concerns with the local authority so they can progress these safeguarding concerns as they consider appropriate."
The school's website says the school aims to instil "timeless values in God's ever-changing world, where every child will fulfil their potential".
In a welcome message on the website, Ms Jones says she moved to the area 20 years ago, sent her four daughters to the school and was also a teacher and governor there before having "the very great privilege" of being head.
Governors at the academy school, which is outside local authority control, have directed inquiries on the matter to Wiltshire Council during the inquiry.