Oxford University's head to move to New York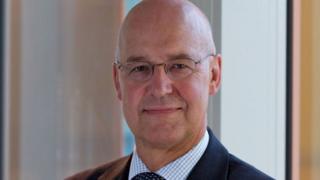 Oxford University's vice chancellor Andrew Hamilton is leaving to take over as president of New York University.
Professor Hamilton will leave Oxford in December, replacing New York University's president, John Sexton.
A successor to Prof Hamilton is expected to be announced by early June.
New York University, one of the largest private universities in the US, is a "game-changer in a field in which that is uncommon", said Prof Hamilton.
Prof Hamilton has been Oxford's vice chancellor since 2009, making him the "second longest serving vice-Chancellor of the modern era", according to the university.
Global university
"It is premature to talk of achievements and legacies - there is still much to be done on my watch - but I am delighted to have been part of a very exciting, dynamic and successful time in Oxford's long and illustrious history," said Prof Hamilton.
New York University, with 50,000 students and a main building in Manhattan, has been an ambitious and fast-expanding rival to the Ivy League universities in the US.
It has been a pioneer of globalisation in higher education, with campuses in Shanghai and Abu Dhabi and academic centres in 11 other cities around the world. It claims to educate more overseas students than any other US university.
John Sexton has been a high-profile and longstanding head of the university, overseeing its rise in prominence. Martin Lipton, chair of the board of trustees, described Professor Sexton's time in office as "eminently successful".