Inclusion unit offers expelled pupils new opportunity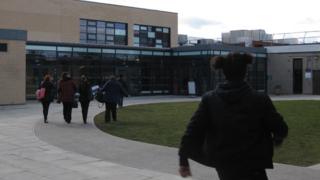 Only one per cent of students studying under special provision after being thrown out of school will go on to achieve five good GCSEs.
This is despite a decline in the overall number of pupils thrown out of secondary school for bad behaviour.
But one inclusion unit, set up for pupils excluded from mainstream education, is managing to turn around some youngsters' prospects.
Students from the BBC's School Report project learnt about its positive side.
Daniel, a reporter visiting Barking and Dagenham College, east London, said he was excluded from his own school when teachers had "had enough of my behaviour - fighting, not doing homework, arguing with teachers".
At Barking and Dagenham, facilities like a recreation room and learning-difficulties unit are used to help pupils concentrate on returning to education.
'Brilliant' young man
One student said: "At my old school, I never got on with any of the teachers or most of the kids, so I misbehaved more.
"The kids here are normal. They don't think they're above you. And the teachers, they're more like people than figures you'd want to avoid."
David Kinyanjui, who has taught at the college for eight years, said it made a huge difference to students' lives and future prospects.
He said: "There's one particular student who came to us having been kicked out of school for fighting, insulting his teachers. He wouldn't go home on time and sometimes would get home at three in the morning.
"This is someone we had to sit down and make them believe in themselves.
"As we speak now, he's a proud dad of a young girl. He's got himself a job. He is a brilliant young man."