Vinyl remixed: Why the LP is spinning again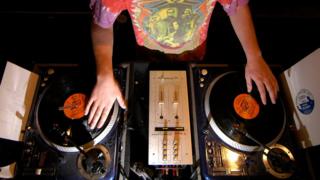 Vinyl sales are rising in the UK and BBC News website readers have been sharing their passion for LPs.
An increasing number of consumers are listening to music on streaming sites and then buying a vinyl record, a new ICM poll suggests.
But almost half of the people who bought vinyl last month admit they have yet to play it.
Some say they do not even own a turntable and others are using the records as decoration.
Geoff Robinson says he sold most of his LPs when he moved house 20 years ago, but he is still holding on to some records he has had since the 1950s and 1960s.
"I kept the really nice ones, the ones that were very important to me when I was growing up: Buddy Holly, Glen Campbell and The Beatles," he says.
"Unfortunately, I don't have anything to play the records on any more.
I would love to play them again. Vinyl has this old, earthy and honest sound, there is nothing artificial about it."
He says he was aware that there has always been a market for collectors and purists.
"But now the whole thing seems to have taken off all of a sudden. However, I do not understand why people would buy records just to put them on the wall."
---
'Whole new level'
Kit Barry says she is one of the young people who stream music but also buy vinyl.
"I listen to Spotify on my morning commute. But my turntables and my records are by far and above my pride and joy."
She says she has been collecting vinyl since she went to university.
"I find it a more pleasing way to listen to music. The fact that music is physically etched into a surface, not digitally attached, gives the music a sound that almost makes it alive," she says.
"It is almost like being sat in a concert hall and hearing the music first hand. It gives the sound a whole new level."
Mark Rasdall, born in 1960, says he was brought up in a household where the wireless accompanied every task and still has a large collection of records.
He says he loved going through the racks of new and second-hand albums in his local store in Peterborough.
"The musty smells and old coffee stains on the artwork would just add to the sense of being part of things and I would pore over the lyric sheets for hours on end," he says.
"And, of course, the sound quality beyond the dust and tiny scratches, which were and still are part of the experience, was warm and always an honest reflection of those hours and days of work in the studio."
He now listens to most music online but still buys physical copies.
"I do stream from Spotify but only to test tracks before purchasing downloads and more likely CD."
---
'Deeper and richer'
Stuart Littleford also still buys vinyl and listen to records on his 1980s and 1970s Hi-fi system.
"The sound quality of vinyl is far better, much deeper and richer and far truer to the studio recording."
"Recording music on thousands of pounds worth of high-end studio equipment only to be dumbed down to a poor quality MP3 format is sacrilege."
He says he finds students buying the records just for show rather strange.
"It's a bit like buying a Rolls Royce to put in the garage for show but never taking a ride in it," he says.
"Of course, physically handling the record is all part of the attraction and the time taken to clean and place the disk on the deck adds to the eventual listening experience."
Compiled by Michael Ertl