Anti-Semitism compensation and apology for student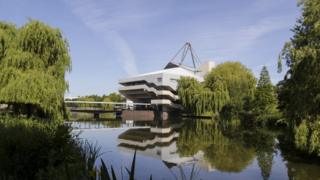 A Jewish student who battled anti-Semitism from students at the University of York has received an apology and payment of £1,000.
Zachary Confino, 21, won compensation from the university's student union.
It is understood that Mr Confino, who narrowly missed out on a first class degree, had suffered with stress, and was racially abused and bullied.
The university, which acted as a mediator, confirmed Mr Confino had accepted the payment and the apology.
'Strength'
A spokesperson for the University of York said it welcomed students from "all backgrounds, faiths and nationalities".
"The University of York acted as mediator to resolve a long-running complaint brought by a student against the University of York Students' Union. This involved an apology by the Students' Union to the student and a token payment of £1,000."
The statement added that joint statements had been signed with both the Jewish Society and the Islamic Society on campus.
It continued: "The University is committed to preserving the right to freedom of expression while also combating anti-Semitism, Islamophobia and any other form of race hate.
"We welcome students from all backgrounds, faiths and nationalities in our diverse community."
'Lengthy battle'
Jonathan Sacerdoti, director of communications at the Campaign Against Antisemitism, praised Mr Confino's "incredible strength and dedication" but said that the union's apology and payment of compensation was not enough.
He said: "There must also be a commitment to fighting anti-Semitism properly, something they failed to do in Zachary's case.
"It should not be necessary for individual Jewish students to fight lengthy battles with their university unions over the course of many months or years in order to have Jew-hatred dealt with properly."
The closure of the long-running case comes just a few weeks after the National Union of Students was engulfed in controversy after it elected a president, Malia Bouattia, who was accused of making anti-Semitic comments.
She was also the first black Muslim woman to be elected NUS president.