Why foreign affairs and defence matter in this election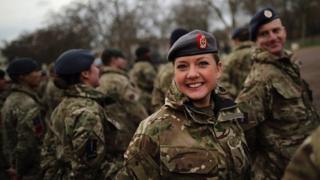 The next government will immediately have to take over the reins in efforts to contain the conflict in Ukraine and defeat so-called Islamic State (IS) - at the same time as the UK's armed forces undergo massive reorganisation.
What's at stake?
The UK, with other EU members and the US, sees the violence in eastern Ukraine as a threat to the country's sovereignty which defies international law. The UK is also part of a wider US-led coalition trying to curb the spread of IS, the terror network which controls parts of Syria and Iraq. At home, police and security services are trying to clamp down on home-grown jihadists offering support to IS.
At the same time, the Army is halfway through a restructuring plan which aims to reduce regular troop numbers from 102,000 in 2010 to 82,000 in 2018, while reserves will go up from 15,000. In 2016, MPs will vote on whether and how to upgrade Trident, Britain's submarine-led nuclear deterrent.
Unlike most Nato countries, Britain has stuck to the organisation's guidelines to spend 2% or more of GDP on defence. But there is a question over whether that will continue. A defence review is required after the election.
Away from military, the aim of cementing Britain's annual foreign aid budget to 0.7% of its gross national income is controversial with some.
What are the numbers?
A UN report from February said at least 5,486 people have been killed since the start of the Ukraine conflict in April 2014, and the Ukrainian Ministry of Social Policy has put the number of displaced people at 978,482.
The US estimates there are up to 31,500 IS fighters - of whom 3,000 are estimated to be European.
In November 2014 alone, more than 5,000 people were killed by Jihadist groups across 14 countries, according to BBC World Service-led analysis.
The disparate spread of IS violence makes it difficult to quantify, but one UN report estimated 24,000 Iraqis were killed in eight months of 2014. The Syrian Observatory for Human Rights said more than 76,000 Syrians were killed by IS and other militant groups that year.
What won't the politicians be saying?
Some see a tension between active participation in a common European foreign policy - particularly on Ukraine - and the government's commitment to re-evaluating the UK's relationship with the EU (which Labour and UKIP also think needs to happen).
Others have argued the UK has signalled its commitment to remaining a key player in the EU - for example, agreeing to sanctions against Russia despite the likelihood of a negative impact on the City.
Recently individual MPs and the Defence Select Committee have called for the UK to play a more active role in the fight against IS.
But any prime minister contemplating troops on the ground would be wary of finding themselves in the same position as David Cameron in August 2013, when he recalled Parliament only to lose a vote on military action in Syria.
There are also doubts about the future of the Army 2020 plan - military personnel have questioned whether the replacement of regular troops with reservists is feasible or advisable.
---
What has happened since 2010?
In 2011 UK took part in military action to topple Libyan leader Col Muammar Gaddafi. He was later killed but the country is increasingly unstable
MPs voted against military intervention in Syria in 2013 - but in 2014 backed motion for non-combat military support in Iraq
Ministry of Defence sent "training team" to northern Iraq, along with drones, as well as Tornado squadron participating in air strikes
Sanctions against Russia extended several times since first agreed in March last year
The UK has signalled commitment to what Nato Secretary General Jens Stoltenberg has described as "the biggest reinforcement" of the Alliance since the Cold War.
What do the experts say?
"British policy-makers need to focus their diplomacy on strengthening the UK's position within the UN Security Council, the G20 and the EU. And British politicians need to remind an increasingly sceptical public why this makes sense" - Dr Robin Niblett, director of Chatham House
"The MoD will need to complete much of the detailed work on the feasibility and cost-effectiveness of a range of possible policy options in advance of the May 2015 general election. Without such work, ministers could find themselves - as in 2010 - being forced to make key decisions without adequate supporting data." - Professor Malcolm Chalmers, RUSI