Election profile: Green Party (England and Wales)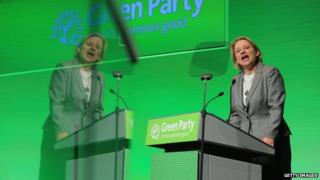 The Greens have expanded from an environmentalist platform to present themselves as a challenge to Labour on the left.
The party has its roots in campaigns to protect the environment.
A party called People fielded five candidates in the February 1974 general election before renaming itself the Ecology Party and adopting the "Manifesto for a Sustainable Society".
This document would eventually become a blueprint for the Green Party, which came into being in 1985.
Brighton success
Funded by its own membership, the Greens long opted not to have a leader, instead being represented by two "principal speakers".
But in 2008 it ditched the policy - which some argued was difficult to explain - and elected Caroline Lucas.
The party has built strong pockets of local support in areas such as Norwich, Oxford, Bristol and Brighton.
In 2010 it converted this into electoral success with the election of Ms Lucas as the MP for Brighton Pavilion.
The party came third in the London mayoral election of 2012, narrowly beating the Lib Dems, and in 2014 gained an MEP, taking its total to three.
The prominence of Caroline Lucas - replaced as leader by Natalie Bennett in 2012 - and its expansion of policy proposals beyond purely environmental issues has helped the party to present itself as an alternative for left-of-centre voters disillusioned with Labour and the Lib Dems.
The party has emphasised in recent years the need for affordable housing, sustainable jobs, and opposition to fracking and the EU-US trade deal TTIP.
It has seen a large rise in membership this year, and in January claimed a UK-wide total of 43,829 members - behind the SNP and in front of UKIP.
Following the spike in membership and with the party polling close to the Liberal Democrats, the party's policies have come under scrutiny recently, including plans for a £72-a-week "citizen's income", and decriminalising membership of terror groups.
Ms Bennett struggled to explain in a radio interview how a pledge to build 500,000 new social rental homes.
The party argued hard for a place in the televised election debates having been left off the first set of proposals, winning the backing of David Cameron. They were included in a seven-way debate when the final schedule was announced.