Why environmental issues matter in this election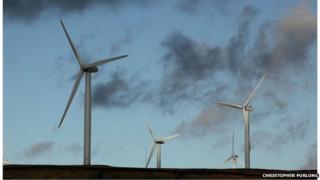 Environmental concerns have tumbled down the election agenda in recent years, as concerns about the health service and standards of living take centre stage. So what are the issues in 2015?
Environmental issues are a partially devolved power in Northern Ireland, Scotland and Wales.
What's at stake?
With UN climate change talks in Paris looming at the end of the year, 2015 is a key year for the climate change debate. The election will decide who represents the UK in December. The three main political leaders have pledged to work together towards a low-carbon path, whatever the results of the election, but their approaches are different. Labour says it will put climate change "at the heart of our foreign policy". UKIP says it would immediately repeal the Climate Change Act if it came to power.
When it comes to greening the economy - a buzzword among environmental groups - Labour's manifesto pledges that it would commit to the ambitious target of taking all the carbon out of electricity by 2030 and create a million additional green jobs over the next decade. The Green Party wants to strengthen the Climate Change Act and create a zero-carbon economy by 2050.
The Liberal Democrats say one of their top five priorities is protection of the environment. They will introduce five new green laws, including a Nature Bill to protect wildlife and green spaces. Their manifesto commits to "getting rid of coal generation by 2025 and setting an ambitious power sector 'decarbonisation' target".
The SNP says Scotland is on track to produce nearly a third of its electricity from renewable sources and the party has pledged to increase that to 80% by 2020. There would be no new subsidies for wind farms and solar arrays under Ukip plans, while the Green Party is highlighting investment in renewable energy and flood defences. On-shore wind farms have fallen out of favour with the Conservatives, with public subsidies earmarked for other renewable technologies such as off-shore wind farms and solar panels.
Electricity bills are the main battleground issue in this election on the energy front. Labour says it will freeze energy bills until 2017 if it wins the next election, but the Conservatives and Liberal Democrats argue this is unrealistic because of the unpredictable costs of gas and other fuels. Ukip says it would abolish green taxes and charges with the aim of reducing fuel bills.
On fracking, David Cameron has said the government is "going all out" for shale gas, claiming it could create jobs and reduce reliance on imported gas. The Green Party and SNP are in favour of a total ban and moratorium. Labour has always said that shale gas extraction cannot go ahead unless there is a system of robust regulation and comprehensive inspection. The Liberal Democrats are officially in favour, but behind the scenes support appears more divided.
What are the numbers?
The UK's greenhouse gas emissions dropped by 2.4% in 2013 as the country burned less coal and gas for power, according to official figures. In total, emissions dropped from 582.2 million tonnes, to 568.3 million tonnes from 2012 to 2013, figures from the Department of Energy and Climate Change show.
According to the Deputy Prime Minister, Nick Clegg, in the last four years, one million new trees have been planted in towns and cities, 940 miles of hedges have been restored or planted and 150,000 acres of field margins, wetlands and woodlands have been created.
Some 190,000 new jobs could be created by 2030 through measures to reduce UK carbon emissions in line with the first four carbon budgets, according to Cambridge Econometrics, 2014.
What has happened since 2010?
Shale gas received a setback when a very small earthquake in Blackpool in April 2011 closed exploratory fracking for some time
Winter floods in 2013 and 2014 raised question of whether climate change is driving severe weather and its impacts, although Met Office says no definitive answer
Government published first UK Climate Change Risk Assessment in January 2012. Report warned flooding, heatwaves and water shortages could become more likely, but benefits could include new shipping lanes through the Arctic, fewer cold-related deaths in winter and higher crop yields
Government is to explore potential to create a tidal lagoon to provide clean energy, and has increased funding for tidal and wave power and overseen expansion in offshore wind
What the experts say
"The UK must start acting now to prepare for climate change. It is not necessarily about spending more, but about spending smart and investing to save. If we get it right, we can save money in the short term and avoid large extra costs in the future" - Lord Krebs, chairman of the Committee on Climate Change adaptation sub-committee
"Between them, the parties' manifestos contain a range of commendable proposals to protect our natural environment better, reduce emissions and lead internationally on issues like the illegal wildlife trade. But we are seeing virtually no debate about these things in the day-to-day election campaigns. So let's hear the political parties talking more about what they will do to tackle these great challenges, and let's hear those debates properly reported. " - WWF-UK Chief Executive David Nussbaum
"Access to affordable and secure energy is essential for economic prosperity. We project global demand to grow by 37% between 2013 and 2035, driven by the developing world. A diverse mix of energy sources, including fossil fuels, will be required" - BP Global