Rival parties go on attack after Tony Blair intervention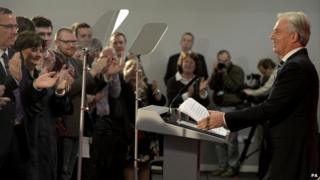 Tony Blair returned to the public eye on Tuesday with a speech backing Labour leader Ed Miliband and Britain's membership of the EU.
He quickly became a trending topic on Twitter and rival parties sought to take advantage of the divisive former prime minister's return.
The Lib Dems wanted to remind voters about some of the more controversial moments of Mr Blair's decade in power, using the #wehavenotforgotten hashtag on Twitter.
Unsurprisingly, they focused on Britain's involvement in the Iraq War and used archive video of Mr Blair saying Saddam Hussein had chemical and biological weapons.
The hashtag failed to get any traction though and a few people used it to remind the Lib Dems of some of its own political difficulties:
The Conservatives used Mr Blair's speech to promote one of their main lines of attack on Mr Miliband, tweeting their take on Labour's relationship with SNP leader Nicola Sturgeon:
David Cameron focused on Mr Blair's support for Labour's opposition to a referendum on Britain's EU membership:
Meanwhile, the SNP said Mr Blair's appearance was a reminder of his "toxic legacy" while UKIP leader Nigel Farage welcomed the opportunity for a "proper debate" on the EU.