Election 2015: Getting out the expat vote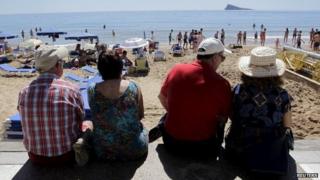 In the context of a general election that is expected to be the closest for decades, these figures are striking: out of an estimated five million Britons living abroad, fewer than 16,000 are registered to vote back in the UK.
No wonder, then, that the main political parties are trying to woo the potentially critical expatriate vote.
British citizens can vote for up to 15 years after leaving the UK. Tens of thousands more expats have reportedly registered online in the last couple of months.
For any others still wishing to exercise their vote on 7 May, the registration deadline is 20 April.
'Sorry state of affairs'
On the Costa Blanca in Spain, pensioner Margaret Hales is performing the role of an unofficial campaigner to get out the expat vote.
She and her husband Gerald moved there eight years ago to spend their retirement in the village of Benitachell, where more than half of the population of 4,700 is from the UK.
"Many people who live abroad who are still allowed to vote do not exercise that right. Some of that is the same lethargy as you will find anywhere in Britain," says Mrs Hales.
"When I realised the sorry state of affairs that existed I started to campaign for more people to register."
But she adds: "Many people are not registered because it isn't a friendly system. It has been made easier in the last year but it is still difficult."
The Electoral Commission says it has simplified the voter registration process.
"There is now just a matter of days left until the 20 April deadline, so we're encouraging UK expats to join the many others who have already registered to vote online," says its director of communications Alex Robertson.
"It takes just a few minutes at our register to vote site and is far easier than the old, paper-based process."
Vote for life
Having been involved in politics for much of her adult life, resulting in her being made an MBE for services to politics in 1996, Mrs Hales has her sights set not just on boosting the expat vote - but abolishing the cut-off point for that right.
"I was amazed when we first moved to Spain and I was told by other long-term residents that after a nominal 15 years we had our democratic right taken away from us," she says.
"At about that time I found out from my brother, who was investigating our family history, that we were related to Emmeline Pankhurst. She fought for universal suffrage but we have a strict limit on how long we can vote for."
At Benitachell Bowls Club, fellow expat Jacqui Roberts agrees: "We can't withdraw our taxes, we can't say we're not paying them any more - it would be nice to do that, but we can't.
"I feel that while you're paying taxes in the UK - there's no choice - you have a right to a voice."
While a commitment to expat voters has been expressed by all three main political parties, the Conservatives say they support the idea of them keeping their vote.
Conservative party chairman Grant Shapps has said: "Being a British citizen is for life... we believe it should also give you the lifelong right to vote."
The Labour Party has said it "has no plans to change the current 15-year time limit" and the Liberal Democrats have said they would "explore the viability of 'overseas' constituencies such as those used in some other European countries".
UK concerns
Mrs Hales says: "There is a lot of prejudice about people who live abroad, but what if we returned en masse to the UK, what kind of pressure would our creaky knees have on the health service?
"The majority of expats are working Brits, not pensioners like me, so there would be pressures on the other services too."
She says that if expats are unable to vote in the country where they live because they are not a citizen and also denied a vote in the UK, they can be left feeling "totally disenfranchised".
Yet there remain many political concerns back in the UK for them, she points out.
"For the overseas residents I have spoken to, the economy is high up on the list of priorities," says Mrs Hales.
"Many are pensioners so they want to know who is going to be in 11 Downing Street and many still pay tax in the UK.
"If you have family back home you are concerned about the state of the NHS, and protection of social services. My mother-in-law in Milton Keynes is 100, so we want to know she is being looked after."
Another expat, Harry Winfield, adds: "With the rest of my family in England, I would like to be able to support them as well through having a vote."
With this demographic enjoying sunnier climes potentially the source of many thousands of votes, the UK political parties would do well to attract more of their ballot papers back to these shores.