UKIP election leaflet 'marked' by Somerset teacher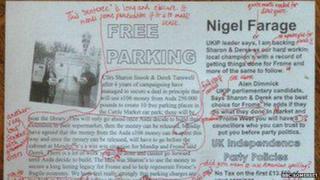 A UKIP campaign leaflet went viral for the wrong reasons when it was given the red pen treatment by an English teacher who spotted more than a dozen errors.
Suzy Howlett set to work with a red marker pen after receiving the leaflet through her door in Frome, Somerset.
The leaflet on free parking appeared to have been sent on behalf of councillors Sharon Snook and Derek Tanswell.
But Mr Tanswell suggested it was a draft that had been hacked from his computer and sent out by someone else.
Among the errors highlighted was a "long and obscure" sentence that needed "punctuation if it is to make sense" and the use of "your" instead of "you'll".
The photograph of the corrections was published on Reddit and later retweeted thousands of times.
Ms Howlett said there was "absolutely no shame in having difficulties with spelling, grammar and punctuation".
"What does put me off it is the thought that either Mr Tanswell doesn't understand his own weaknesses, or he does but he's too slapdash and too careless to bother to get someone to proofread them and check for detail," she added.
"And that makes me think that he perhaps would not be very good at running anything else, if he were to be elected."
Mr Tanswell is a Mendip district council candidate standing for UKIP in the Frome Park ward on 7 May.