Election 2015: Labour pledge cash for cancer diagnostics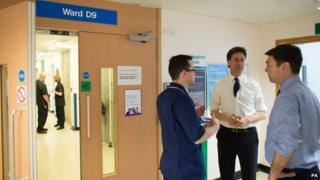 A Labour government would invest £150m a year in cancer diagnostic equipment in England, Ed Miliband has said.
The policy is designed to help Labour deliver its commitment of a one-week wait for cancer tests by 2020.
The move, costing £750m in total, will be paid for out of the £2.5bn a year NHS fund it has already announced.
The Conservatives say Labour have refused to commit to providing the £8bn a year which NHS England says it needs by 2020 to meet future demands.
More than 330,000 people are diagnosed with cancer in the UK every year and it is forecast that, by 2020, half the population can expect to experience some form of cancer during their lifetime.
The announcement, which builds on a commitment set out in October, is the latest in a series of policy pledges on the NHS as Labour focuses on what it believes is a key electoral asset for the party.
'Anxiety'
Labour says the money will enable more ultrasound and X-ray machines to be installed directly into GP surgeries so patients can get cancer tests on the premises.
It is also considering plans for community diagnostic clinics where patients could get a range of tests in one visit.
"Speeding up cancer tests will help reduce the anxiety of waiting for a test result, improve early diagnosis and ensure those who need it can start treatment sooner," Ed Miliband said.
"And we know that early diagnosis dramatically improves the chances of successful treatment while saving the NHS on the costs of late intervention."
Mr Miliband accused the coalition government of "cutting cancer budgets", which he will say has contributed to the NHS missing cancer treatment targets in each of the past four quarters.
He told Radio 2's Jeremy Vine programme: "We need to do better on cancer as a country."
Funding
Labour is planning to replace a cancer drugs fund, set up by the coalition to pay for medication rejected by the National Institute for Care and Health Excellence on cost grounds, with a cancer treatments fund that would partly be used to replace radiotherapy machines that have been in operation for more than a decade.
But Mr Cameron has said the cancer drugs fund has been a success, helping 60,000 people get the medication they needed.
Speaking on ITV's This Morning, the Conservative leader said the NHS would "always be my priority" and would "come first" in terms of future spending decisions.
Future funding of the NHS has become a major issue, with the parties under pressure to say how they would meet a £8bn a year shortfall in funding by 2020 identified by NHS England.
Mr Cameron said the Conservatives had agreed to meet this figure in full and had a track record of delivery, having invested an extra £7.5bn since 2010.
Labour has said it will invest an extra £2.5bn a year, paid for by a so-called "mansion tax" on homes worth more than £2m, tax avoidance measures and a windfall tax on tobacco companies.
But it has not committed specifically to meet the £8bn figure, saying it will not make commitments without knowing how they will be paid for.