Election 2015: Referendum all over again?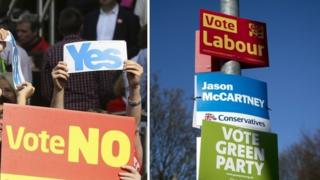 If you're feeling a sense of deja vu about the election campaign, it might be that you're experiencing flashbacks to the Scottish referendum, a mere seven months ago. Here are some similarities with Scotland's independence vote.
---
1. Debates about TV debates
Then: Then first minister Alex Salmond faced Labour's Alistair Darling in two televised debates, but he wasn't entirely happy about it. He called David Cameron "feart" (or "scared") after it was confirmed in 2013 that the prime minister would not take part. Mr Cameron insisted: "It is a debate between different people in Scotland about whether to stay or separate and that's where you have to hold the debate."
Now: There was disagreement over who should take part in the leaders' debate from the beginning. The ultimate outcome was that David Cameron was part of a seven-way debate, a lone grilling and a special edition of Question Time, but did not face Ed Miliband one-on-one. Again, he was trash-talked by his opponent - this time Ed Miliband, who called him "chicken". Mr Cameron countered that the Labour leader would rather debate the debate than talk about the economy.
---
2. Big business making it their business
Then: Insurance company Standard Life courted controversy by talking about moving their operations out of Scotland in the event of a "Yes" vote, while RBS and Clydesdale banks said they would relocate their headquarters. Meanwhile, more than 200 business leaders including Stagecoach chairman Sir Brian Souter and Clyde Blowers boss Jim McColl were happy to sign an open letter to the Herald saying independence would help, not harm, Scotland's economic interests.
Now: Shortly after Boots boss Stefano Pessina warned a Labour government would be a "catastrophe", it became a war of the letter-writers. More than 100 business directors signed a letter to the Telegraph backing the Conservatives at the beginning of April - only to be followed by a letter from Labour-supporting businesspeople attacking the Conservatives' plans to hold an EU referendum.
---
3. Celebrity endorsements
Then: If you were vaguely Scottish and vaguely famous in 2014, journalists were hitting you up for your views on independence. David Tennant, JK Rowling, David Bowie and Sir Alex Ferguson all endorsed staying in the union at one time or another. In the "Yes" camp, there was Sean Connery, Brian Cox, and an eleventh-hour thumbs-up from Andy Murray.
Now: Martin Freeman has appeared in a Labour Party political broadcast, and Ross Kemp has been stumping up the Labour vote in South Thanet. Ant and Dec have talked about voting Conservative, and Sol Campbell was even said to have considered standing as a Conservative candidate. Hugh Grant, meanwhile, has endorsed Lib Dem candidate Danny Alexander even though he does not live in the constituency.
---
4. Soapbox campaigning
Then: Scottish voters became used to the sight of Labour's Jim Murphy on his soapbox - or more accurately, his Irn Bru crate - and equally used to hearing him shouted down by people who were backing independence. He visited 100 Scottish towns in 100 days, and while he wasn't always welcome, he was certainly one of the most visible campaigners on the "No" side.
Now: There were shades of Mr Murphy's approach in Ed Miliband's pledge to hold four million conversations in four months, which he now says he has completed. Jim Murphy has himself been recreating scenes from September - complete with the same hecklers, at least one of whom he knows by name. And Scottish Conservative leader Ruth Davidson took a leaf out of his book when she took to the streets of Edinburgh recently to chat to un-vetted passers-by.
---
5. Activate the old-timers
Then: Not content with having saved the world (er, the banks), former Prime Minister Gordon Brown returned to try to save the union. He gave several speeches during the campaign, of which perhaps the most memorable was his appeal on the eve of the referendum. Before a room full of activists in Glasgow, he thundered: "What we have built together by sacrificing and sharing, let no narrow nationalism split asunder ever."
Now: Lampooned in cartoons of yore as a superhero in Y-fronts, Sir John Major descended into the fray to warn that a Labour-SNP deal would create "mayhem". Some questioned the wisdom of his intervention, but nobody could doubt his strength of feeling as he raised his voice and got personal: "I am a unionist. More than that, I admire Scotland and would hate to see us part. "
---
6. English head-scratching
Then: After initially leaving Scots to it, there was an explosion of interest south of the border after one poll grabbed headlines by suggesting the "Yes" side would win. Suddenly English politicians were queuing up to love-bomb Scotland, culminating in the publication of The Vow - a full-page pledge on the front of the Daily Record to deliver further devolution to Holyrood.
Now: At the beginning of the campaign, nobody seemed entirely sure what to make of the SNP and its leader, with much commentary and attack ads focused on its ex-leader, Alex Salmond. But there followed an apparent surge of interest in the SNP and its potential role in the next government, with Nicola Sturgeon faring well in nationwide polling after the seven-party TV debate. The Guardian reported that one of the most popular Google searches during the debate was "Can I vote SNP if I live in England?"
---
7. Do we have to do this all again?
Then: Speculation about a second referendum - the "neverendum" scenario - was talked down by the SNP, who said it ought to be a "once-in-a-generation" decision.
Now: The Fixed-Term Parliaments Act has not completely put a stop to discussion of a second election, given how close the numbers look likely to be on Friday.