Election 2015: 24 April at-a-glance
A daily guide to the key stories, newspaper headlines and quotes from the campaign for the 7 May general election.
Foreign policy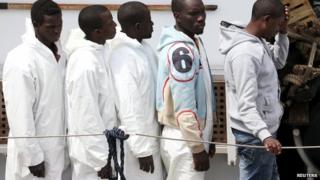 Labour leader Ed Miliband has criticised David Cameron's foreign policy, including failures in "post-conflict planning" in Libya.
But the Conservatives hit back and said that Miliband's words are "ill-judged" and accused him of unfairly politicising the issue.
---
Day in a nutshell
Keep up with all the days events on our live page.
---
Key quotes
Labour leader Ed Miliband on Libya: "David Cameron was wrong to assume that Libya's political culture and institutions could be left to evolve and transform on their own. The tragedy is that this could have been anticipated. It should have been avoided."
Conservative former Foreign Secretary William Hague: "He cannot come to foreign policy with some ill-judged and opportunistic remarks after five years of saying very little at all."
David Cameron on English votes for English laws: "If you have basic constitutional unfairness like we've had, if you have the people in one part of the UK feeling like they are getting a raw deal, then resentment festers"
SNP leader Nicola Sturgeon: "Even if the Tories are the largest party, if there is an anti-Tory majority, my offer to Labour is to work together to keep the Tories out."
---
Picture of the day
Friday's newspaper headlines
"Labour's £1,000 tax on families" - Ed Miliband would saddle every working family with extra taxes the equivalent to more than £1,000, reports the Times
"PM's gamble on English tax" - David Cameron will place himself at "the head of English nationalism" today by promising to introduce an England-only income tax this year as well as publishing an English manifesto, the Guardian says.
"Business jitters at Tory tactics as Cameron bets on the ground war" - The Financial Times says business leaders are "increasingly frustrated" at the tactics and the tone of the Conservative election campaign, amid boardroom concern that Ed Miliband is "mounting a stiffer challenge for Number 10 than expected".
"Former Labour minister attacks Miliband" - Ed Miliband should "stop sneering" at wealth creators, Lord Digby Jones, a trade minister in the last Labour government, has told the Daily Telegraph.
---
What's popular
"Ghastly", "you need to sort it out, mate" and "fairy stories" - what voters told BBC political reporter Brian Wheeler on his 600-mile long "extreme election" day trip to visit the youngest, oldest, richest and poorest constituencies in the country to hear what their voters are saying.
And tale of two Camerons - Dallas and David - check out how the popularity of a social media star has overshadowed the British prime minister's election campaign.
---
* Subscribe to the BBC Election 2015 newsletter to get a round-up of the day's campaign news sent to your inbox every weekday afternoon.