Election 2015 at-a-glance: Wednesday 29 April campaigning
A daily guide to the key stories, newspaper headlines and quotes from the campaign for the 7 May general election.
Tax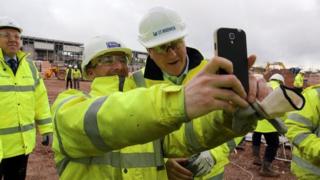 The Conservatives are promising a law guaranteeing no rise in income tax, national insurance or VAT before 2020, but Labour says the Tory plans would mean cuts to tax credits totalling £3.8bn. Meanwhile the Lib Dems pledge to offer free schools meals to all children in England, and Ed Miliband has spoken with comedian Russell Brand.
---
Day in a nutshell
Keep up with all the days events on our live page.
---
Key quotes
Prime Minister David Cameron: "Working people in this country have paid enough tax. As this economy recovers, I want you to be able to keep more of the money to spend as you choose. That is the choice. Take home pay going up with the Conservatives.... or going down with Labour."
Lib Dem leader Nick Clegg: "We know that giving children a healthy lunch helps them to concentrate in the afternoon and do better in class."
UKIP leader Nigel Farage: "We've got to a point here with this where, unless we stand up and say something, we will be opening up our doors not just to many more people but to the Islamic extremist threat."
Labour leader Ed Miliband: "You don't want politicians saying 'vote for me and on day one the world is transformed'. It ain't going to be like that. Change is hard. Change takes time."
Comedian Russell Brand: "The reason I have never voted in my life is that I think it does not matter."
---
Wednesday's newspaper headlines
"Cameron's pledge: No tax rises for five years" - The Daily Telegraph leads with David Cameron's five year "tax-lock" pledge.
"Miliband's tactical gamble" - The Guardian splashes on what it sees as Ed Miliband's attempt to "shift up a gear" in his election campaign and broadcast a conversation he had with comedian Russell Brand about the value of voting and a warning about the threat to living standards posed by Conservative spending cuts.
"Labour chief given £1.5m shares from tax haven" - The Times claims that Margaret Hodge, who it describes as "Labour's fiercest critic of tax avoidance", has received more than £1.5m in shares from the tax haven of Liechtenstein.
---
Pictures of the day
What about foreign policy?
With one week to go to polling day, foreign policy has hardly featured in the general election campaign, read this explainer on the issue.
And with only eight days before the UK goes to the polls, why not have a crack at the fifth Magazine election quiz, and test your knowledge of party election broadcasts
---
* Subscribe to the BBC Election 2015 newsletter to get a round-up of the day's campaign news sent to your inbox every weekday afternoon.