Election 2015: How Russell Brand's Labour endorsement went down online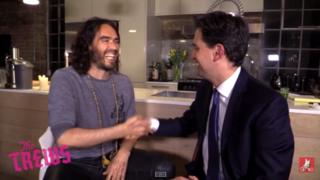 So "Mr Don't Vote" has changed his mind. In a video posted on YouTube on Monday, Russell Brand called on his one million subscribers to vote for Labour in this week's general election. How did his change of heart go down online? Here's a sample of the reaction.
So is he a sell out? A hypocrite? Or brave to finally change his mind?
But is it too late to help Labour? Well it definitely is if Brand's followers failed to register to vote before the 20 April deadline.
David Cameron labelled Brand "a joke" and some commentators claimed Ed Miliband had made a mistake in agreeing to the interview - but does the endorsement make it a tactical win?
And Brand joins a growing list of celebrities who have backed Ed Miliband so far in this campaign:
But will any of it matter when the polls open? Join us on Thursday to find out!