Election 2015: What still to watch for as UK decides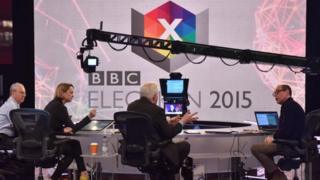 It has turned out to be the most exciting general election night in years. Here is a full guide on how to follow all the results and reaction on the BBC.
What to watch out for
Seat projections - There are 650 seats up for grabs. To form a majority government a party needs 326, although 323 should be enough because Sinn Fein's MPs don't take up their seats. If no party gets this, it becomes a question of who gets the most MPs - and how many seats their potential coalition partners get.
Local elections - Elections for local councillors are taking place in all parts of England at the same time as the general election, with the exception of seven unitary authorities, a handful of districts and the 32 London boroughs.
Declaration times: The Press Association has posted a list of declaration times in chronological and alphabetical order.
---
Jargon buster
Austerity: Spending cuts.
Ashcroft poll: Former Conservative donor Lord Ashcroft has reinvented himself as an opinion pollster. His surveys of how people are going to vote in marginal seats have been a big feature of this election campaign.
Ballot: Another term for vote.
Core vote: People who always vote for the same party no matter what. Known in America as "the base". A "core vote strategy" is sometimes used as a put-down, suggesting that a party is not reaching out enough to undecided voters.
Coalition: When two or more parties join forces to govern as a single unit. The junior partners are given ministerial jobs and a joint programme for government is set out.
Confidence and supply: When a smaller party, such as the SNP or the Lib Dems, agrees to support a larger party, such as Labour or the Conservatives, in key Commons votes to keep it in power is called "confidence and supply". The smaller party will support the government in "confidence" votes and Budgets.
Debt: The amount of money owed by the UK government.
Deficit: When the government spends more than it receives in taxes it is said to be running a deficit.
Deposit: £500 paid by candidates or their parties to be allowed to stand. It is returned if the candidate wins 5% or more of the votes cast.
Doorstep: A term politicians use to refer to public opinion - what people have been saying to them when they have been out campaigning. A handy way to deflect criticism as it is difficult to disprove: "That's not what people have been saying to me on the doorstep".
First Past The Post: The winner-takes-all voting system used in elections to the Westminster Parliament. The candidate with the most votes in a constituency becomes the MP. There are no second or third preferences.
Fiscal policy: Tax and spending.
Hung Parliament: When no single party can get enough MPs to form a majority on its own the Parliament is said to be "hung". This happened at the 2010 general election.
Majority: When one party has more MPs than all the other parties put together, enabling them to form a single party government.
Manifesto: A public declaration of a party's ideas and policies, usually published during the campaign. Once in power, a government is often judged by how many of its manifesto promises it manages to deliver.
Marginal: A constituency where there is a close contest.
Safe seat: A constituency where one party is expected to win comfortably. A large proportion of constituencies fall into this category.
Target seat: All the parties have lists of the seats they believe they have a chance of winning. These are called targets. Under First Past The Post, the parties that are best at targeting seats gain an advantage.
Vote-by-vote deal: A looser arrangement than "confidence and supply". It means a minority government could count on the support of a smaller party in some votes but not in others.
---
BBC election night guide
Television
BBC One
The BBC's main election night programme was fronted by David Dimbleby, with live coverage from 220 counts. Huw Edwards took over from David Dimbleby at 07:00 BST on Friday and will continue anchoring the main programme until 18:00 BST. Wales, Scotland and Northern Ireland have had their own overnight programmes but joined Huw Edwards from 07:00 BST on 8 May.
Radio
Presenters and reporters from across BBC radio programmes have been at key constituencies and at Westminster. Local BBC radio stations around the country are broadcasting live from counts.
There is full coverage of results as they come in and reaction from politicians, pundits and BBC correspondents, in our election live page. There is also a live updating results scoreboard and map, showing how the country has voted, and plenty more stats for those who like their election nights delivered to the last decimal point.
In addition, there is a breakdown of results for England, Northern Ireland, Scotland and Wales. Enter your details in our constituency postcode search box for your constituency result and brief updates from the area.
You are also able to watch all of the BBC's election programmes - the UK network programme and those focusing on Scotland, Northern Ireland and Wales - or listen to radio coverage, on the election live page. And there is an exclusive online-only channel there, showing live declarations from counting centres around the country.
On social media, our @BBCPolitics Twitter account is delivering updates, results and reaction galore, as is our BBC News Facebook page. At the same time, the BBC Election Instagram page is summing it all up in a series of short films, graphics and images. And if you tweet the first half of your postcode to @BBCElectionBot, you'll get a reply with the closest matching result.
---
BBC News Timeliner: Election night stars
Working through the night, through the decades, to bring you all the crunch information (sometimes literally).
Watch video from the vaults on the BBC News Timeliner
---
The best of BBC News' Election 2015 specials