Election 2015: Parties grilled on low trust levels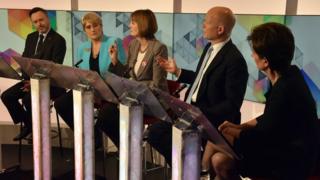 Westminster politicians have been grilled on the eve of polling day about low levels of trust in politics.
The parties clashed over personal attacks in politics, electoral reform and keeping promises to voters.
Conservative former Foreign Secretary William Hague stood by his party's attacks on Ed Miliband, while Harriet Harman said carving Labour pledges into stone was "a good idea".
UKIP, the SNP and the Liberal Democrats were also represented.
According to a recent poll, just 16% of Britons trust politicians to tell the truth - below the totals for journalists, estate agents and bankers.
Personal attacks
During the Daily Politics debate, Ms Harman and Mr Hague defended their parties' different ways of underlining their pledges to voters.
Labour's decision to unveil a limestone monument carved with some its election pledges has generated much comment.
"Let's not joke about the fact that we have to make sure that people know what it is that they're voting for and that they can rely on it," Ms Harman said.
Asked about Conservative plans to pass a law to curb tax rises if they win the election, Mr Hague said: "I think that's a way for a Parliament to show it's serious about doing something which is very different from having a stone where you cannot judge whether it's been met or not."
The panel was asked about negative language turning voters off from politics, and Mr Hague stood by a Conservative attack on Labour leader Ed Miliband - who was accused of having stabbed his brother David in the back by challenging him for the party leadership.
Last month Tory Defence Secretary Michael Fallon said Mr Miliband was now "willing to stab the UK in the back".
Mr Hague said Mr Miliband had stabbed his brother in the "front, back and side" and said Mr Fallon had been making a valid point over the renewal of the UK's nuclear weapons system.
Ms Harman, who called Mr Fallon's comments "utterly reprehensible", said she was sorry for referring to Liberal Democrat Danny Alexander as a "ginger rodent" in 2010.
"I regretted that almost the moment the words were out of my mouth. I do not normally do mindless abuse," she said.
Alyn Smith, of the SNP, said social media comments by one of his party's candidates, Neil Hay, had been "wrong".
Mr Hay referred to supporters of the UK as "quislings" on Twitter, under the pseudonym "Paco McSheepie".
Voting reform
Mr Smith was also asked about the suspension of two SNP members following scuffles at a Labour rally.
"If they were behaving the way they seemed to be behaving as SNP members that would not be appropriate," he said.
He also claimed the issue of cynicism and falling trust in politics "doesn't scan north of the border".
For the Liberal Democrats, party president Baroness Brinton said people wanted to see a change in the voting system, but that it had not been one of the party's "red lines" because they had lost the 2011 referendum on whether to switch to the alternative vote system.
UKIP's Diane James said her party also wanted a proportional voting system.
Asked about parties keeping their promises, she said hers was the only party with a "costed and verified" manifesto.
The best of BBC News' Election 2015 specials