Conservative Gordon Oliver re-elected mayor of Torbay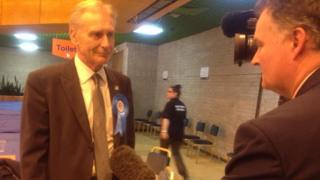 Conservative Gordon Oliver has been re-elected as the mayor of Torbay in Devon.
He narrowly beat second placed Liberal Democrat candidate Dennis Brewer with a majority of 621 votes, securing his second term which will last four years.
Mr Oliver said his priorities would be job creation, investment and "hope for a better tomorrow".
He said a referendum on the mayoral system would be held in Torbay in 2016 because he did not agree with it.
Mr Oliver said: "I stood for election again because I wanted to complete the task - there are many other things we need to achieve.
"We need to give hope for a better tomorrow, more jobs, greater investment and confidence for other people to invest in the Bay..."
In October 2014, Mr Oliver was sacked from his duties as head of the Conservative group after he received a vote of no confidence as leader of the council by colleagues in a private meeting with a secret ballot.
On Friday, former MP Lib Dem Adrian Sanders lost the Torbay constituency seat to Conservative Kevin Foster.