Ex-Lib Dem MP Mike Hancock 'will not win' rival claims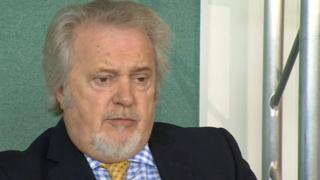 Disgraced former Liberal Democrat MP Mike Hancock has "no chance" at the general election, a rival has claimed.
Mr Hancock, who admitted an "inappropriate friendship" with a constituent in Portsmouth South, plans to stand as an independent candidate.
He resigned from the Liberal Democrats in September after he had the whip removed but remained an MP.
He will face former party colleague Gerald Vernon-Jackson, who has dismissed his chances.
The Conservatives and Labour said they welcomed the competition.
Mr Vernon-Jackson said: "A deselected MP has not won in modern times anywhere in the country. He's got no chance of winning. I don't think anyone thinks he has got a chance of winning."
Tory candidate Flick Drummond said: "It's up to the voters to decide. I'm running a positive campaign and I look forward to any competition in the mix."
Sue Castillon, Labour candidate, said: "I think the contest for Portsmouth South is wide open and Mike Hancock is totally entitled to stand."
A UKIP spokesman said: "[Mr Hancock] obviously doesn't know the meaning of the word disgraced. I'm sure our candidate relishes every challenge in the campaign ahead."
Mr Hancock, 68, who has battled health issues, said he hoped voters would accept he had paid for his "mistake".
He told BBC News: "I'm going to stand for sure, I've made this decision because my health is so much better and I think I owe it to a lot of people who have supported me.
"Once you've been an MP for as long as I have it's hard to just walk away."
Portsmouth South candidates
Sue Castillon - Labour
Flick Drummond - Conservative
Mike Hancock - Independent
Steve Harris - UKIP
Sean Hoyle - Trade Unionist and Socialist Coalition
Don Jerrard - Justice & Anti-Corruption Party
Ian McCulloch - Green
Gerald Vernon-Jackson - Lib Dem