Southampton Itchen misspelt in letter from David Cameron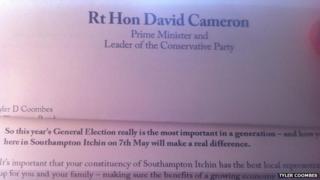 An election campaign letter from Prime Minister David Cameron, complete with misspelled constituency name, is "embarrassing", a resident has said.
Letters were addressed to constituents in Southampton Itchen, detailing Conservative successes, with the area spelt "Itchin".
Resident Tyler Coombes, from Sholing, said the mistake was "poor".
A spokesman for the Conservative Party said: "This was an honest mistake, made in the heat of campaigning."
'Careless'
Mr Coombes posted the letter on Twitter and said: "Thank you for your letter @David_Cameron. Perhaps next time you could spell Southampton ItchEn correctly? #poor".
He said he usually voted for the party but this made him "question things".
He said: "It is a basic letter from the Conservatives saying what they have done in power and what it would mean if we vote them in, it's David Cameron giving himself a thumbs up.
"It is just a bit careless, it is not what you want from a person running the country.
"I usually vote Conservative but this makes you prick your ears up a bit, it's a bit embarrassing."
The BBC understands the letter was sent to a large number of households
Labour's John Denham has represented the constituency since 1992.
---
The candidates for the constituency are:
Eleanor Bell, Liberal Democrat
Rowenna Davis, Labour
Royston Smith, Conservative
John Spottiswoode, Green
Kim Rose, UK Independence Party
Sue Atkins, Trade Unionist and Socialist Coalition
Source: yournextmp.com
---