General election fever in 1929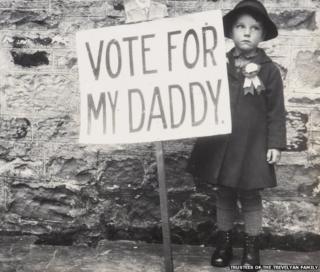 Photo opportunities, poster campaigns and blanket news coverage are all election campaign staples.
The same techniques were used in an attempt to woo voters in the early 1900s, as visitors to a Northumberland tourist attraction will be able to see.
An exhibition at Wallington showcases the 1929 general election, featuring campaign material used by its then owner and parliamentary candidate Sir Charles Philips Trevelyan.
Transcripts of speeches, diary entries, and letters requesting support from campaign groups will be on show.
The 1929 election was the first time women over the age of 21 were able to vote and the exhibition includes many references to the suffrage campaign.
Prior to this only women over 30 who met minimum property requirements were eligible to vote.
Sir Trevelyan was an aristocrat but described himself as "an illogical Englishman", and his socialist beliefs led him to give his 1,300 acre estate to the National Trust, on behalf of the nation.
Gillian Mason, visitor experience manager for Wallington, said: "We hope it will give people a chance to escape the present day election hype and spin and give a fascinating insight into history."
The Vote at Wallington exhibition runs until October.