Closure of Salisbury custody suite of 'grave concern'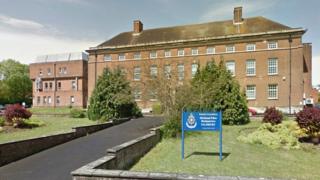 The closure of a police custody unit in Salisbury is of "grave concern" to one of the city's election candidates.
Conservative John Glen said it was "unacceptable" it had closed in June with no replacement.
Currently anybody who is arrested in the city is taken to Melksham - 30 miles (48km) away.
Liberal Democrat Reeten Banerji said the move had other "knock-ons", while Labour's Tom Corbin said a replacement was never likely to be quick.
Wiltshire Police has started a review of custody facilities in the county which could lead to the closure in Salisbury being made permanent.
'Very unreliable'
Chief Constable Pat Geenty has previously said the review would make "absolutely sure that when we spend £6m or £7m on building a new custody suite it's in the right place".
But Mr Glen, speaking on a BBC Wiltshire election debate, claimed Mr Geenty had changed his mind several times on the situation.
"One day the chief constable said he could move out of Wilton Road by September 2014, a few weeks later he said he couldn't because of the custody suite.
"He wanted to make sure it was in Salisbury - but then he changed his mind on that."
Labour's Tom Corbin said to entirely blame Mr Geenty was "unfair".
Lib Dem Reeten Banerji added: "There are police being taken away from frontline roles just because there isn't a custody suite here."
UKIP's Paul Martin said the police needed better funding, while Alison Craig from the Green Party said they would give the police more money if there were areas of "specific concern".
Independent candidate King Arthur Pendragon said police services were "struggling" because of cuts.
---
The candidates for the constituency are:
Reeten Banerji, Liberal Democrat
Tom Corbin, Labour
Alison Craig, Green
John Glen, Conservative
Paul Martin, UKIP
King Arthur Pendragon, Independent
---