Cotswold house-building process 'outrageous' says election candidate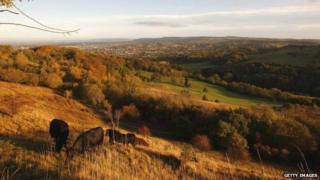 The planning process for new houses in the Cotswolds has been branded "outrageous" by an election candidate.
Liberal Democrat Paul Hodgkinson said developers had been allowed to circle the area "building the wrong type of development in the wrong places".
He blamed the Conservatives in power and claimed a fairer system was needed.
Tory candidate Geoffrey Clifton-Brown said help had been sought from the planning inspectorate to create a new local plan "as soon as possible".
"A lot of small rural local authorities up and down the country find it difficult, with minimal resources, to implement the very difficult procedure of getting a local plan," he added.
'Messed up'
In February, Cotswold District Council ended its consultation on a Local Plan being drawn up for the period 2011-2031, which will guide future decisions over development in the area.
Speaking during an election debate on BBC Radio Gloucestershire, Mr Hodgkinson said the district council had "messed up big time" by not having a local plan in place.
UKIP candidate Chris Harlow also spoke out against the district council, claiming a proposed development south of Cirencester would "not do anybody any good at all".
"The people who live in those houses will commute to other towns. What the district really needs is small groups of houses in villages where they can be assimilated, where people can live where they grew up", he said.
And Manjinder Singh Kang, for Labour, suggested the greater issue was that young people "simply cannot afford" to save enough funds for the deposit in the first place.
Cotswold District Council said 463 affordable housing units had been built since 2012 meaning the authority had "already exceeded" its target of 400 new units over four years.
One election candidate was not present during the radio debate - Penny Burgess, for the Green Party.
---
The candidates for the constituency are:
Penny Burgess, Green
Geoffrey Clifton-Brown, Conservative
Chris Harlow, UKIP
Paul Hodgkinson, Liberal Democrat
Manjinder Singh Kang, Labour
---