Lewes election candidates in penalty shootout hustings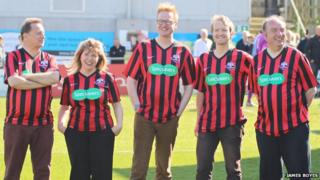 Five election candidates have taken part in a half-time penalty shootout at Lewes Football Club's home game against Leatherhead Town.
The sudden death shootout was won by Alfie Stirling, of the Green Party, who was the only penalty taker to put the ball past the goalkeeper.
His prize was 60 seconds on the PA system to address the crowd.
The contest also featured Conservative, Labour, Liberal Democrat and UKIP candidates in the Lewes constituency.
'Cheers and jeers'
Club director Stuart Fuller said each of the candidates took two penalties but Mr Stirling was the only one who managed to score.
"There were plenty of cheers and jeers when the penalties went by," he added.
When he was asked how well the fans had taken the 60-second political broadcast. Mr Fuller said: "There was a bit of heckling but nothing serious, it seemed well received."
The candidates were introduced to the crowd at the Dripping Pan stadium before the shootout at half-time in the Ryman League match.
"We thought that a 'first past the post' system such as this would be more familiar to them," said Kevin Miller, the club's commercial manager, before the match.
---
Lewes candidates
Norman Baker is standing for the Liberal Democrats
Maria Caulfield is standing for the Conservatives
Ray Finch is standing for UKIP
Lloyd Russell-Moyle is standing for Labour
Alfie Stirling is standing for the Green Party
---