Farage 'disappoints' Bishop of Dover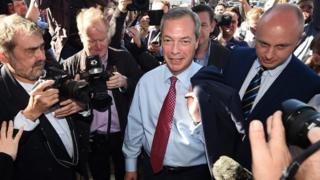 The Bishop of Dover said he was left "disappointed" after UKIP leader Nigel Farage stated he would not attend an election debate in Kent.
The Right Reverend Trevor Willmott has invited candidates for the Thanet South seat to discuss election issues with the public next Friday.
A recent poll put UKIP one point behind the Tories and one ahead of Labour in the hotly-contested Thanet South seat.
But UKIP said it did not get an invite and "assumed we weren't invited".
The UKIP spokesman said the South Thanet office did however receive an invite addressed to Mr Al Murray - one of the other candidates standing in Thanet South - "which we duly forwarded on".
The spokesman said Mr Farage had another public meeting that day which "hundreds" of residents have already registered for, so would not be able to attend.
But he defended the decision, saying that Mr Farage had already attended two hustings with other candidates plus two national televised debates.
He added that Mr Farage had completed "18 public meetings with audiences of up to 350 each time, all across South Thanet" with eight more planned.
Pub landlord
The Bishop of Dover will chair the Broadstairs event which he hopes will "provide an opportunity for the candidates to set out their visions for the constituency and for the country as well as offering a chance for voters to quiz them.".
He said: "Whilst I'm disappointed that not all parliamentary candidates will be attending, I believe the evening will still provide an excellent opportunity for the people of South Thanet to engage in the political process."
Pub landlord comedian Al Murray, who is standing under the banner of the Free United Kingdom Party, also declined the invitation.
In attendance will be Conservative candidate Craig Mackinlay, Labour's Will Scobie, Liberal Democrat Russell Timpson, the Greens' Ian Driver and representatives from the Reality Party, Party for United Thanet, Manston Airport Independent Party and the Al Zebabist Nation of Ooog.
---
Thanet South candidates
Zebadiah Abu-Obadiah (Al-Zebabist Nation of Ooog)
Nigel Askew (We Are The Reality Party)
Ruth Bailey (Manston Airport Independent Party)
Grahame Birchall (Party for a United Thanet)
Ian Driver (Green)
Nigel Farage (UKIP)
Craig Mackinlay (Conservative)
Dean McCastree (Independent)
Al Murray (Free United Kingdom Party)
Will Scobie (Labour)
Russell Timpson (Liberal Democrat)