Conservative candidate Jesse Norman investigated over muffins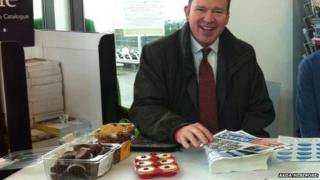 A Conservative candidate standing for re-election has dismissed as "nonsense" claims he attempted to sway potential voters with cake.
Jesse Norman, who is standing in the Hereford and South Herefordshire constituency, was seen with boxes of treats while out campaigning.
Mr Norman was photographed at a supermarket with a box of chocolate muffins and some cherry Bakewells.
West Mercia Police confirmed an investigation was under way.
It comes after UKIP candidate Kim Rose, who is standing in Southampton Itchen, was told by police he would face no further action over allegations he laid on sausage rolls and Jaffa Cakes at an event in February.
"Treating" is barred under election rules as it could be seen as inducing voters to cast their ballots one way or another.
Mr Norman, who won the seat in 2010, called the claims "nonsense".
He said: "We had a couple of small boxes of chocolate muffins and suchlike. We may have given one or two out to children, who are not even voters."