Middlesbrough mayoral election: Six vie for post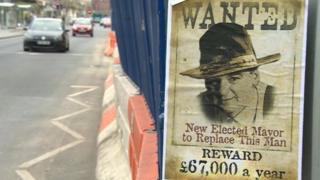 As people go to the polls on election day, Middlesbrough residents will also be voting for a new mayor.
It is the end of an era for the town as previous incumbent Ray Mallon, who served three terms in the post since its introduction in 2002, is no longer in the fray.
Like Mr Mallon before them, four out of the six current candidates are not affiliated to any political party.
The remaining two are standing under Labour and Conservative party banners.
While the independents might stress that their status gives them a platform to talk about "genuine change", Labour candidate David Budd is hoping his record as a councillor will stand in his favour.
'Balancing books'
He said: "We've got £500m of investment going on in Middlesbrough at the moment.
"We're building more houses than ever before, people are moving here, people want to live here.
"I've instigated some of this change, I've accelerated some of that change, I think now is a great time for Middlesbrough."
Lloyd Cole-Nolan, Conservative candidate, said: "A Conservative mayor and council would make a fantastic change to the status quo.
"We'd go for balancing books, bringing fresher ideas to the table.
"I'd go out and fight to bring in more private investment, and would stop further borrowing against the future."
'Terminal decline'
Meanwhile, with no party politics to fall back on, the four independent candidates have to differentiate themselves from each other.
Len Junier said: "Party politics in the town is in terminal decline and it's time to change.
"I'm a community guy, that's what I've been for decades.
"One of my aims would be to get the public more involved in what's going on in the town hall, to open up the corridors of power for the people of Middlesbrough."
Michael Carr said: "We need to go against the legacy of disadvantage that the decline of manufacturing has imposed on what I believe to be a brilliant town.
"If you have millions to spend why should you be buying in from Bradford or Bristol?
"We should be buying locally and spending locally."
'Blame culture'
Andy Preston pledged to create jobs, work with businesses, and bring more companies into the town.
"I want to lead the town on to a new era of confidence and ambition, ending the blame culture", he said.
"It means starting to do things here, and stop looking at London."
Dave Roberts stressed the importance of presenting Middlesbrough in a positive light.
"Middlesbrough is a great place to live and raise your kids", he said.
"We need to promote this town, we need to market it right, because if you do the opposite, who's going to write a cheque and invest in this town if you're saying we're failing, we're victims and nothing works right here?"