Windsor candidates against Heathrow Airport expansion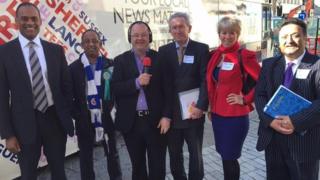 Heathrow Airport's bid to build a third runway is not supported by any of Windsor's parliamentary candidates.
Speaking in a live BBC Radio Berkshire debate, Labour's Fiona Dent would not say whether she supported the expansion plans but did promise a consultation.
Lib Dem George Fussey, Independent Wisdom Da Costa and UKIP's Tarik Malik said they were opposed to expansion.
Conservative Adam Afriyie said he was optimistic the Davies Commission would chose Gatwick, not Heathrow.
The Airport Commission report by Sir Howard Davies, due after the General Election, has shortlisted three options for increasing air capacity in London - lengthening Heathrow's existing runway, building a third runway or building a second runway at Gatwick.
Mr Fussey said: "The Lib Dems are implacably opposed to an extra runway. We don't want an extra 260,000 flights from Heathrow, we don't want an extra 50 million visitors flying from Heathrow, we don't want the congestion it's going to create, the disruption the build is going to create and we don't want the pollution.
"The jobs are important for the economy but they could be created somewhere else. We don't think it's sustainable, environmentally."
Ms Dent said: "I'm concerned about the Davies Commission. It's going to report just about a month after the election and the parameters of that commission have really only focussed on the economic impact. The social impact and the environmental impact have been largely ignored.
"We would consult before we do absolutely anything on Heathrow and we would consult with local people."
Mr Da Costa said: "It shouldn't be allowed to expand. The benefit to Windsor would be very, very small, economically but the disruption to Windsor, both environmentally and in terms of congestion and health, it will be phenomenal."
Mr Malik said: "We've created a white paper on Manston Airport. We need to look at other alternatives. We need to look at the pollution impact it will have. We are against this, absolutely."
Mr Afriyie said: "For the last 10 years I've been absolutely clear - no third runway - and it's not just about nimbyism... it's not in the national interest, not in our regional interest and not in the interest of consumers.
"Our manifesto is quite clear - we are going to await the recommendations of the Davies Commission and then make a judgement.
"I'm optimistic, if Davies is sensible, he will recognise that Gatwick is the right option."
Heathrow Airport says allowing the airport to expand would be a huge boost to the south east's economy, bringing thousands of jobs to the region.
"A bigger Heathrow would lead to thousands more planes flying over Berkshire and the surrounding area, but new generations of quieter aircraft and more effective use of our runways would see noise levels in the area drop rather than rise," said sustainability director Matt Gorman.
The airport said it had done all it can to argue its case and will wait and see what the Davies Commission recommends.
---
The candidates for the constituency are:
Adam Afriyie - Conservative
Wisdom Da Costa - Independent
Fiona Dent - Labour
George Fussey - Liberal Democrat
Tariq Malik -UKIP
Derek Wall - Green
---