Bristol TV debate fainting candidate Darren Jones blames cold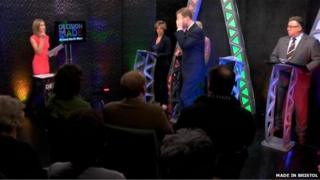 A Labour candidate who fainted during a live TV election debate in Bristol and was helped by his Conservative rival has blamed his collapse on a cold.
Darren Jones, standing for Bristol North West, felt unwell and left his podium about 45 seconds before the programme on Made in Bristol TV began.
Tory Charlotte Leslie rushed to assist Mr Jones as he lay on the studio floor.
Mr Jones said he was "perfectly fine now" and was "raring to get back on the campaign trail".
He was taking part in a live debate, on Wednesday, with other candidates standing in the constituency, including Liberal Democrat Clare Campion-Smith and UKIP's Michael Frost.
An ambulance was called but cancelled after Mr Jones said it was "not needed".
Mr Jones said his fainting was not due to a medical condition but "the fact that I had a cold, it was a hot room, I'd had a busy day".
He said he had been feeling "quite poorly all day" but he had wanted to ensure Labour was represented in the debate.
Mr Jones said he was very grateful to Ms Leslie, the TV production team and the audience but added he was "amazed that having a cold is so newsworthy".
---
The candidates for the constituency are:
Clare Campion-Smith, Liberal Democrat
Michael Frost. UKIP
Darren Jones, Labour
Anne Lemon, TUSC
Charlotte Leslie, Conservative
Justin Quinnell, Green
---