Northampton needs new hospital, chief executive says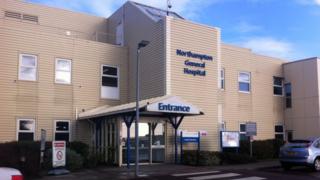 A general hospital is now too small to cope with a growing population and pressure on beds could soon reach crisis point, a senior manager says.
Deborah Needham, chief executive officer at Northampton General Hospital, said 30 more beds would be needed over the next 12 months.
After a visit to the hospital by Labour's Andy Burnham, the party said a new hospital should be considered.
But Conservatives queried where the money would come from.
The 764-bed town centre hospital has wards from the Victorian era, plus a mix of modern buildings and others from the 1970s and 80s.
"The hospital now is not big enough to cope with the growing population," Ms Needham said.
She added considerably more beds would be needed within five years.
Shadow health secretary, Mr Burnham, said if Labour won power, it would call a summit to discuss a possible new hospital.
Conservative Michael Ellis asked where the money would come from and criticised Mr Burnham for calling the existing hospital "antiquated" and insulting the staff who worked there.
UKIP candidate for Northampton South, Rose Gibbins, said she would fight for a new hospital.
Angela Paterson, for the Liberal Democrats in Northampton North, said housing should be put on the hospital site and the hospital where 1,300 homes are planned, at south Brackmills.
Tony Clarke, from the Green Party, said the hospital was feeling pressure because of underfunding by the government.
The candidates for the Northampton South seat are: Sadik Chaudhury (Lib Dem), Rose Gibbins (UKIP), Julie Hawkins (Green), David Mackintosh (Conservative), Kevin McKeever (Labour) and Kevin Willsher (Independent).
The candidates for the Northampton North seat are: Tony Clarke (Green), Michael Ellis (Conservative), Sally Keeble (Labour), Angela Paterson (Lib Dem), and Tom Rubython (UKIP).