UKIP candidate spells constituency wrongly in leaflet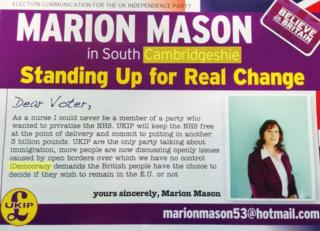 An election leaflet sent out by the UKIP candidate for South Cambridgeshire spells the name of the constituency wrongly.
The leaflet for Marion Mason says "South Cambridgeshie" instead of "Cambridgeshire", among other typos and grammatical errors.
Ms Mason said it became incorrect in the printing process and she hoped to get money reimbursed after polling.
The Media Print Group said it had no influence on candidates' text.
The news comes a week after fellow South Cambridgeshire candidate, Liberal Democrat Sebastian Kindersley, admitted he misspelled the word "language" in his leaflet when talking about tightening up English language tests.
Ms Mason, who stood in Stevenage at the last general election, said she noticed the error last week when the leaflets were distributed.
'Seething'
She said she had spent hundreds of pounds on the leaflets, which have gone to every home in South Cambridgeshire.
"I am angry. I was seething, I've had to work and fund this campaign," she said.
"It's like banging your head against the wall."
The former Conservative said she had taken the original leaflet with the correct spelling around with her when canvassing.
She admitted some residents would be put off by the mistake, but added: "Some people hadn't noticed it."
A spokesman for the Media Print Group said everything was given an approval code and had to be signed off before printing.
He said the firm did not have "anything to do" with the artwork or text fields, and "can only print what the candidate stated".
---
Other candidates standing in the South Cambridgeshire constituency (in alphabetical order of party):
Heidi Allen - Conservative
Simon Saggers - Green
Dan Greef - Labour
---