Election 2015: Labour candidate Clive Lewis retakes Norwich South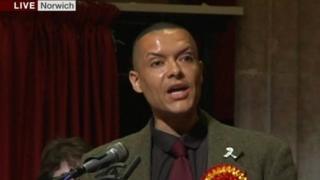 Labour candidate Clive Lewis has won Norwich South from former Liberal Democrat MP Simon Wright, who was beaten into fourth place.
Mr Lewis, a former BBC reporter, won 19,033 votes, a majority of 7,654 over Conservative candidate Lisa Townsend.
Green Party candidate Lesley Grahame won 6,749 votes, with Mr Wright in fourth with 6,607 votes.
Mr Wright had won the seat from the former Labour Home Secretary Charles Clarke in 2010.
In North Norfolk, Lib Dem health minister Norman Lamb retained his seat.
'Contrasting fortunes'
He said: "It has been an awful night and very painful to lose some good colleagues.
"It is extraordinary to look at the contrasting fortunes of the two parties involved in this coalition."
Conservative candidate Richard Bacon held on to South Norfolk, and Tory candidate George Freeman held on to Mid Norfolk. Conservatives also held on to Great Yarmouth.
The Conservatives also held Broadland but the count continues in the constituencies of North Norfolk, North West Norfolk, Norwich North, and South West Norfolk.
Follow the latest from counts via the BBC's election live service constituency by constituency.