Martin Smyth 'misled' over DUP South Belfast nomination papers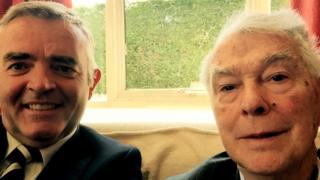 Former UUP MP Rev Martin Smyth has accused the DUP's South Belfast general election candidate of misleading him in a row over nomination papers.
On Tuesday, the DUP said Mr Smyth was endorsing their candidate Jonathan Bell and had signed his nomination papers.
However, Mr Smyth said he told the DUP he had originally pledged his support to the UUP candidate Rodney McCune.
He also said he only signed Mr Bell's nomination papers because he was told he could also sign Mr McCune's papers.
In recent weeks, DUP and UUP candidates in South Belfast have sought the endorsement of Mr Smyth, who was the last unionist MP in the constituency.
Mr Bell revealed on Tuesday that he had persuaded the former MP to sign his nomination papers.
However, Mr Smyth said on Wednesday that he told Mr Bell he had pledged support to his UUP rival.
Mr Smyth claimed that Mr Bell told him he could sign a number of nomination forms.
He told the BBC he felt the DUP had misled him and he wanted them to withdraw his name.
"I think that Jonathan Bell was trying a fast one - they would be wise withdrawing my name," he said.
In response, the UUP candidate Rodney McCune said he believed the DUP had been opportunistic.
"They are the party of political stunts and I suppose this is just another one. It just happens on this occasion it's backfired," he said.
'Backfired'
Mr Bell said Mr Smyth was not sure if he had signed an endorsement or nomination papers for Rodney McCune.
He said the DUP took advice, in the end the wrong advice, that you could sign more than one set of papers as can be done in the assembly, Europe and local government "but in that sense it was an inaccuracy and we were wrong".
"I will never ever say anything derogatory about the Rev Smyth," he added.
Alliance Party candidate Paula Bradshaw said: "It's very embarrassing for the DUP.
"I think they were trying to grab a few votes off the back of Martin Smyth's legacy and I think its backfired on them spectacularly."
SDLP candidate and sitting South Belfast MP Alasdair McDonnell said "it makes no difference to me what Martin Smyth does".
Sinn Féin, whose candidate is Máirtín Ó Muilleor, refused to comment.
The other candidates so far are: Bob Stoker, UKIP; Lily Kerr of the Workers' Party; Ben Manton of the NI Conservatives and the Green Party's Claire Bailey.