Election 2015: Workers Party outlines manifesto pledges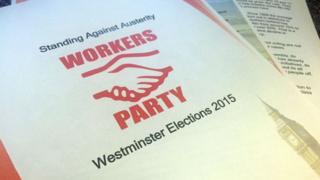 The Workers Party has launched its manifesto for the Westminster election online.
The manifesto, Standing Against Austerity, says the most damaging cuts to Northern Ireland's economy have been overseen by five executive parties.
Its manifesto said the 7 May poll was an opportunity to take a stand against those cuts and reduced public services.
The party said people should "reject sectarian politics in favour of class politics and working class interests".
It accuses the DUP, Sinn Féin, UUP, SDLP and Alliance of off-setting the cost of introducing lower corporation tax for big business by reducing the public sector by 20,000 jobs and cutting public expenditure in transport, education, the arts and the community and voluntary sector.
Five constituencies
The party said it would abandon plans to reduce corporation tax and instead invest the £700m the tax would cost in providing 20,000 new homes and boost jobs in the construction sector.
Dismissing the executive's statements that it is trying to rebalance the Northern Ireland economy, the party reaffirmed its support for integrated education, gay marriage equality and a woman's right to choose in abortion while restating its opposition to racism and homophobia.
The party is standing in five constituencies.