UUP and DUP reject Sinn Féin's gay marriage referendum proposal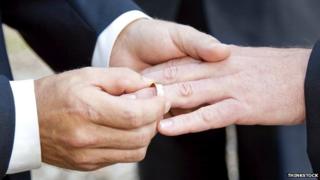 The DUP has rejected a proposal for a referendum on same sex marriage from Sinn Féin's Martin McGuinness.
The Northern Ireland deputy first minister made the proposal on BBC Radio Ulster's Talkback programme and reiterated the suggestion during an election debate on UTV.
DUP deputy leader Nigel Dodds said he thought the issue should be decided by the assembly.
Ulster Unionist MLA Danny Kennedy also said he could not support the proposal.
The SDLP's Mark Durkan said he had no objection to holding such a referendum.
Alliance deputy leader Naomi Long said that the assembly was making itself increasingly irrelevant on the issue and she would consider the option.