Election 2015: Strabane SDLP office targeted in overnight attack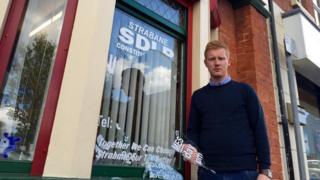 A man has been arrested after an attack on an SDLP constituency office in Strabane, County Tyrone.
A window at the office, on Butcher Street in the town, was smashed at about 23:45 BST on Wednesday.
The police said a man was detained on Thursday and subsequently released on bail pending further inquiries.
Daniel McCrossan, who is the party's West Tyrone candidate in the general election, described the attack as cowardly and anti-democratic.
"We have seen our campaign materials defaced before and this latest and much more violent attack is indicative of the contempt with which these criminals hold the democratic process," he said.
'Bottle bank'
Mr McCrossan said he heard loud smashing noises on Wednesday night while on the campaign trail.
"I assumed it must have been someone making a trip to the bottle bank but I was disgusted when I learned that it was our office which had been targeted," he said.
"Their attacks have failed to intimidate us and the SDLP will continue to work in the true interest of the people of Northern Ireland and speak out against hypocrisy and social injustice."
Other candidates standing in West Tyrone are: Barry Brown, CISTA, Tom Buchanan, DUP, Pat Doherty, Sinn Féin, Stephen Donnelly, Alliance Party; Ross Hussey, UUP; Claire-Louise Leyland, Conservative; Ciaran McClean, Green and Susan-Anne White, Independent.