Election 2015: Narrow waters in UK's most marginal seat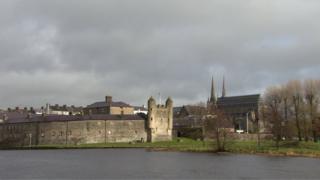 Fermanagh and South Tyrone is the most marginal seat in the UK with just four votes deciding the outcome in 2010.
Michelle Gildernew's victory for Sinn Féin was only confirmed after three recounts and a legal challenge.
The UUP's Tom Elliott is hoping to win back the seat for unionists following an electoral pact with the DUP.
The constituency holds the record for the highest turnout in a UK election - 93.4% in 1951 - and both candidates are telling their supporters that every vote counts.
The organisers of a hustings event about fracking said that in the last election "two tribes and one vote" decided the outcome.
This time, they said it will be policies on issues like fracking, rather than a sectarian headcount, that will help to decide who wins.
Ms Gildernew, who has been the MP since 2001, said tribal politics have become less important.
As well as fracking, she said people are worried about issues like austerity and welfare reform.
She said it doesn't make a difference that Sinn Féin don't take their seats at Westminster.
"I think people do recognise that we need to be making decisions on the island of Ireland for the people of Ireland," she said.
"We're not getting any pressure on this at all, there's no demand on the doorstep. People aren't saying 'why are you not taking your seat?'
"They understand we're active abstentionists, that doesn't mean we don't work very hard. We do."
She believes some unionist voters are opposed to electoral pacts.
"This is a majority nationalist constituency, when all shades of unionism come together to try and put someone like me out you do see people who are upset that their vote is being taken for granted based on religion," she said.
"And to that end, we have seen, and we'll continue to see, people from across the traditions in Fermanagh South Tyrone voting for me and that's very heartening."
Tom Elliott also believes that the old battlegrounds are changing.
Out canvassing in his home village of Ballinamallard, he's joined by both Ulster Unionists and the DUP.
The unionist vote has fallen in recent Westminster elections but he believes he can succeed where the agreed candidate in 2010, Rodney Connor, so narrowly failed.
He says this election is about securing representation at Westminster.
"They know how one vote can make the difference from the last election here, so they know that it's the same at Westminster and they know that their voice is better heard in Westminster than sitting outside.
"So there are people from a nationalist persuasion who feel that, look, Tom Elliott has the best chance of providing representation for us in Westminster so we're prepared to take a chance."
And he said the old divisions of orange and green are no longer as distinct as they were.
"Clearly there is always going to be the constitutional issue, and that's a major issue although not all people of a nationalist persuasion are discontent within the union," he said.
"Many of those people are content to live within the union, many of those are content to have the union remain.
"So they are reasonably satisfied with their lot in Northern Ireland and I think that they are quite supportive and one of their key aspects is they want to see representation at Westminster for them and for all of the people of Fermanagh South Tyrone."
The SDLP's candidate, John Coyle, is a young district councillor from Belleek.
He was attacked on social media after his first live TV debate on BBC One's The View programme.
The experience has been challenging, but he remains enthusiastic.
"That is definitely put behind me. I have a positive attitude and I know what I am saying is right and I'm moving forward," he said.
"I have been offered so many cups of tea and things like that it's been overwhelming the support and generosity of people on the ground.
"I am offering a strong voice to take my seat in Westminster and put Fermanagh South Tyrone on the map.
"To promote the area and to to give people the opportunity of being prosperous and making the economy grow in this area."
The Green Party is standing for election in the constituency for the first time.
Tanya Jones says issues like fracking are helping to change the political landscape and the way people vote.
"I think that they've seen on the ground that the issues that will affect them are certainly not those of the constitution, those of borders, those of religious identity," she said.
"And I think that they've seen that they can't always rely on the mainstream politicians to protect their interests."
Also running in Fermanagh and South Tyrone is Hannah Su of the Alliance Party who declined a request to be interviewed.