Election 2015: Sinn Féin accused over North Belfast 'sectarian leaflet'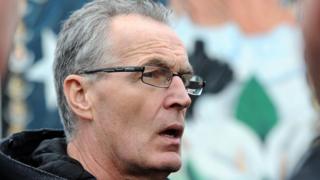 Sinn Féin is facing criticism for publishing election material in North Belfast showing the religious breakdown of the constituency.
The leaflet was published by candidate Gerry Kelly, who is battling to take the seat from the DUP's Nigel Dodds.
Figures from the 2011 census are displayed, showing a Catholic population of 46.9% and a Protestant population of 45.6%.
The tag line is: "Make the change, make history."
Ulster Unionist Tom Elliott said the leaflet was blatantly sectarian.
"Sinn Féin are engaged in the worst and most blatant kind of sectarian campaign yet exhibited by a political party during the general election," he said.
"In their headlong rush to try and win the Westminster seat of North Belfast, they have resorted to the lowest common denominator - sectarianism.
"They will have offended many people across the denominations."
Nuala McAllister of the Alliance Party said there was "nowhere else in these islands where it would be acceptable to target people on the basis of their religion".
"This would be equivalent to a city in the north of England where a party puts out letters highlighting the percentage of the population that is Christian versus the percentage of the population that is Muslim," she said.
"The more that we talk about this divide, the more that we talk about this sectarian headcount, it just perpetuates the divide more. This is lazy politics."
The DUP's Nigel Dodds also criticised the leaflet: "Sinn Féin like to take about equality in public, but privately they make it clear that equality is nothing more than a Trojan Horse to break unionists.
"Publicly Sinn Féin talk about challenging sectarianism, but then produce leaflets which rely on blatant sectarian head counting in North Belfast."
Independent anti-austerity candidate Fra Hughes accused Mr Kelly of "naked sectarianism".
"The election will soon be over. The stain on Sinn Féin's reputation will remain forever," he said.
Gerry Kelly said the leaflet merely presented official census figures and offered "compelling official evidence of significant demographic change" in the constituency.
The full list of candidates standing in North Belfast is:
Nigel Dodds, DUP
Fra Hughes, independent
Gerry Kelly, Sinn Féin
Alban Maginness, SDLP
Jason O'Neill, Alliance
Gemma Weir, Workers' Party